Genevieve Nnaji gets a mention in a Hollywood magazine!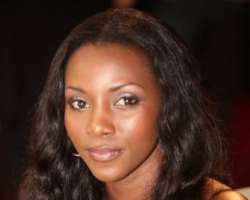 Genevieve Nnaji, Nollywood's biggest exploit to the world has done it again. First she was profiled on Oprah's show as the biggest movie star in Africa and was quoted by Oprah as "the Julia Roberts of Africa".
Genevieve has gotten another mention from Hollywood, read on: The latest issue of Entertainment Weekly (dated October 15, 2010), features a cover story on "The 50 Most Powerful Entertainers" (in Hollywood).
Genevieve is not listed there, obviously, but there is a small sub-feature on "Stars Around the World" which alludes to Genny as "the Angelina Jolie of Nigeria."
The text on Genny reads:
In the span of a decade, this 31-year-old starlet has made more than 110 movies and launched a singing career.
Congrats Genny. Another first from the unfathomable goddess of African screens. For those who do not know, Entertainment Weekly is a popular and grounded Hollywood magazine.