Irregular Power Supply Deepens Poverty - BRF; Commissions Transformer Factory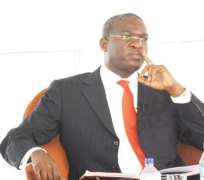 LAGOS, Oct 19, (THEWILL) - The intractable crisis of power supply has contributed in no small measure to the growing rate of poverty and underdevelopment in Nigeria despite her five decades of independence from British colonial rule.
Lagos State Governor, Mr. Babatunde Raji Fashola (SAN) today expressed this view at the commissioning of an Egyptian transformer factory, El Sewedy Electric Nigeria Limited in Badagry, Lagos.
The commissioning was witnessed by Vice President of El Swedey Cables of Egypt, Mr. Mohammed Radwan, the State Commissioner for Commerce and Industry, Prince Adeniyi Oyemade, Special Adviser in the ministry, Mrs. Olusola Oworu and other members of the State Executive Council.
At the commissioning, Fashola tasked the federal government to review downwards the existing tariffs on imported raw materials for the manufacture of transformers, saying such review would attract prospective investors in the power sector.
According to the governor, regular and efficient power supply remains probably the only remaining infrastructure that is required to release the full entrepreneurial energies of Lagos and Nigerian economy.
He added that: "stable power supply is what our country needs to create more wealth, provide more job opportunities and unleash unprecedented economic growth" which he said, could ensure effective poverty reduction and make life better with living more affordable and comfortable.
He said the roadmap to power sector reforms unveiled by President Goodluck Ebele Jonathan on August 26 has set the agenda for addressing the challenges faced by this all-important sector to the economic growth and development of the country.
He stated that the transformer factory had already generated more than 100 jobs for the residents of the state, saying the firm "intends to employ additional 30 workers within the next one month."
Speaking earlier, Mrs. Olusola Oworu, who is Special Adviser to Governor Fashola on Commerce and Industry, gave insight into the partnership between El Sewedy Electric Nigeria Limited and Lagos State Government.
Oworu said the factory "is a joint venture between El Sewedy Cables of Egypt (94.74) and Lagos State Government (5.26) as equity contribution. The commissioning is another manifestation of the successful collaboration with the private sector in project development and implementation."
The factory has capacity to generate 1,400 transformers per annum.