Jakande, Utomi Float Progressive Alliance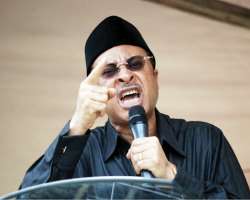 PHOTO: PROFESSOR PAT. UTOMI.
LAGOS, Oct 19, (THEWILL) - Progressive leaders today conveyed in the Ilupeju house of the first Executive Governor of Lagos State, Alhaji Lateef Jakande with a renewed effort to put up an alliance of political parties ahead the 2011 General Elections.
A political group named Patriotic Leaders Front of Nigeria (PLFN) is leading the new alliance, which is aimed at reconciling and uniting all the progressive political leaders in all states of the federation.
Speaking at a forum with journalists after several hours of meeting, Jakande, who is the chairman of PLFN, announced the new alliance, which he said, was necessary to build a common progressive front.
Jakande, an octogenerian, added that the effort "is to unite the progressives in the country with a view to making Nigeria better. The high number of registered political parties cannot guarantee good governance in Nigeria, even if the number of the parties is reduced by half."
He said: "I do not blame INEC for registering too many political parties, as long as they are qualified. It is we the politicians that must organise ourselves. We must now get together to work hard for a great country."
Also at the forum, Professor Pat Utomi, who is also an active member of the group, said several meetings, which had in attendance many progressive elements "have been held and the fundamental commitment is from now on, Nigeria first."
Utomi said: "Now I cannot even say I am running because it is irrelevant. What matters is what we agree is good for Nigeria and we will all support whoever is chosen. But we must first develop a progressive platform that can liberate the country from poor leadership."
He thereafter announced the group's intention to organise an All Politicians' Summit on October 28 in Abuja, saying a committee, chaired by Umar Mohammed, the National Chairman of Kowa Party, has been setup to organise the summit.
Utomi, who was the 2007 presidential candidate on the platform of African Democratic Congress (ADC), said: "We will be agreeing on acceptable behaviour towards election because we have had enough of electoral abuse. Can we meet off record in a private place to agree to the minimal standard below which corruption will not be acceptable? If we have such, it won't matter who is in power because Nigerians will still get served. This is important now because we gradually watch as Asian countries, which were once behind us, are now overtaking us. Those countries kept making progress even in times of political instability because their politicians have agreed to some basic consensus about acceptable minimal standards."
Utomi said the summit "is also expected to produce a progressive alliance that can present Nigeria with an alternative platform and let the Nigerian people make their choice. Contrary to media reports, the mega summit is not dead.
"People assumed that the movement has waned due to the departure of some of us. That is far from the truth and we even liked it that way because it gives us the opportunity to work quietly. We are now good and ready for a true combination of strengths to create an acceptable alignment of progressive forces," Utomi said.