Economy On Track – Jonathan/Sambo Campaign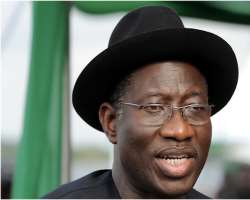 PHOTO: PRESIDENT GOODLUCK EBELE JONATHAN.
ABUJA, Oct 17, (THEWILL) - The Jonathan/Sambo Presidential Campaign Organisation today berated the opposition that having failed dismally with their scare tactics to frighten Nigerians about our nation's political space, they now resort to scare-mongering on the state of the economy.
Director of the Media and Publicity, Mr. Sully Abu specifically said that the alarm by the Atiku Campaign Organization and their use of selective information on the state of the economy flies in the face of the evidence of robust growth being recorded.
He recalled that the Minister of Finance, Mr. Olusegun Aganga last week stated categorically that the economy enjoyed a 7% growth in the first half of this year, a clear indication are that a double digit growth could be recorded by the end of next year, he said.
According to him, the optimism about the economy is fuelled by the Jonathan administration's commitment to massive investment in power and infrastructure designed to transform the way Nigerians live and work, stressing that Investors are responding enthusiastically to the new climate as indicated by the massive interest in the opportunities presented for instance in the power roadmap drawn up by the administration.
He said that while great challenges remain to accelerate the growth potentials of the economy, Nigerians can now more than ever before look to the future with renewed hope and enthusiasm.