'I Am Proud Of My Role In Sanitizing Banking Sector' - Sanusi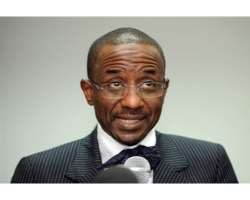 PHOTO: CENTRAL BANK OF NIGERIA GOVERNOR, SANISU LAMIDO SANUSI.
KANO, Oct 17, (THEWILL) - Central bank governor Sanusi Lamido Sanusi has said the banking sector reforms have restored dignity and confidence to that sector of the economy, restoring it back to the proper ways of carrying out its functions within the economy.
The CBN Governor who spoke in Kano at the weekend said: "I am proud with the role am playing in sanitizing the banking industry, we are on the right track, we cannot be deterred by criticisms, we are doing what is right.
"A lot of money has been recovered, banks now operate in accordance with regulations guiding their activities, they now operate in the right way and the industry has been railed back to the right track."
He told critics of his Banking Reform Agenda that the reforms have been good for the Nigerian economy adding that constructive criticisms of the ongoing move are 'highly welcomed.' Sanusi solicited for unflinching support towards the reform agenda and other policies designed in the interest of the banking sector and the Nigerian economy. "People are now better informed and aware of our intention and achievements; they now understand better, therefore criticisms and suggestions are highly welcome to help us achieve our setout motives to keep strengthening the industry," the CBN Governor said.