Group Warns Politicians: You Can't Split Nigeria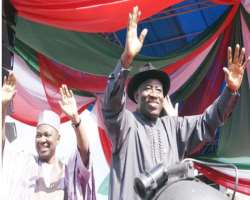 PHOTO: PRSIDENT GOODLUCK JONATHAN AND VICE PRESIDENT NAMADI SAMBO DURING THEIR DECLARATION TO VIE FOR THE PRESIDENCY IN ABUJA.
ABUJA, Oct 17, (THEWILL) - Following the tension that has been generated because of the zoning arranging within the ruling Peoples Democratic Party (PDP), a group canvassing for the candidature of President Goodluck Jonathan has warned that the country would not break up over who occupies the Presidential Villa next year. Speaking at the inauguration of executive officers and committees of the National Coalition for Goodluck and Sambo 2011 weekend in Abuja, President of the group, Prince David Benjamin, said that the very foundation upon which the country was built and the sacrifices of our past and great heroes are greater than the commonplace and primitive issues some politicians are raising ahead of 2011 election. Benjamin said, Nigerians are ahead on the issue of tribe, religious or regional sentiments stating that what they are looking for is someone that is competent and patriotic to deliver good governance. "Nigeria will still remain one, nothing can threaten the unity of this country because our forefathers paid the prize to keep this country united. We are looking for a president of Nigeria and not a parochial sectional or regional president." He advised Nigerians to be vigilant in order not to fall into the trap of backing candidates with questionable antecedents. "We don't want a president with two faces, we don't want a president that never keeps his words, we are looking for a president that will keep his words, a promise keeper. We want a true democrat, one that believes in democratic ideals and not people that played prominent role in truncating democracy in this country." He noted that prior to the ascendancy of President Goodluck to the number one position in the land there was despondency and uncertainty across the country until the divine intervention that saw the former governor of Bayelsa State take oath of office as the president of the country. "Everybody is beginning to have hope in the country after long period of suffering and uncertainty and now that we have gotten Goodluck we must jealously hold on to him and protect what we have and I know that patriotic Nigerians will never let Jonathan go". While canvassing support for the joint ticket of Jonathan and Sambo, Prince Benjamin enumerated various achievements of the administration including the steady supply and distribution of petroleum products and pleaded with Nigerians to give them more time to consolidate on their achievements. "He has a mission and a vision for this country and one year is not enough and that is why the constitution made provision for four year tenure and the least we can do is to let them have this tenure as provided by the constitution". The highpoints of the events was the administering of oath of allegiance to all the executive committee members and zonal coordinators and the inauguration of twelve committees.