Furor As ITF Suspends Director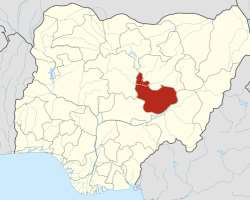 JOS, Oct 17, (THEWILL) - The Industrial Training Fund, ITF, a parastatal under the Federal Ministry of Commerce and Industry has suspended its Director of Business Training Development, Mr. Joe Bitrus.
Bitrus was suspended over allegations that he is vying for the governorship of Plateau State without resigning from his position as a civil servant hence breaching the Civil Service Rules, which requires a civil servant vying for any elective position to resign his position. Trouble started for Bitrus when in July this year, his posters with the inscription, 'The New Face of Plateau: Project 2011' littered the streets of Jos. He was said to have been issued a query thereafter and asked to withdraw the posters within 48 hours and he obeyed.
However the organisation was said to have been more embarrassed when the posters again resurfaced on the eve of President Goodluck Jonathan's visit to Plateau on October 8, 2010. In view of this, another query was issued to Bitrus and he was transferred to Ilorin area office, but he failed to report to Ilorin and instead requested to proceed on his already approved annual leave.
The Director General of the ITF, Professor Longmas Wapmuk who considered his action as an act of insubordination suspended him from office. This prompted Bitrus to petition The Presidency and security agencies alleging threat to his life.
In the petition, made available to THEWILL, Bitrus alleged that he was being victimized for his ambition, explaining that the issue of civil servants participating in politics had long been laid to rest by a Supreme Court judgment, which set aside the Civil Service Rules.
He also alleged that he was being victimised because the DG was working for another aspirant, who felt threatened by his ambition. He also alleged bias by some members of the board led by Chief Bode Oyedele because one of them is also interested in the governorship of Plateau State, adding that his issue was not discussed at the board level as only the board on advise from the office of the supervising ministry has the power to take any disciplinary action against him. He insisted that the posters were not printed by him, but by some Christian youths who were interested in him as the next governor of Plateau state.
But the DG while speaking with newsmen dismissed all the allegations saying Bitrus clearly breached the civil service rules as no responsible organization would sit by and watch its staff dragged into unnecessary politicking.
"The laws are clear on what a civil servant should do when he wants to participate in politics: He must resign. If you want to play politic, you cannot hide under the cover of any organisation other than a political party to actualise your dream. When his posters came out in July, he was issued a query and asked to remove them: he did. All of a sudden the posters resurfaced. And so we cannot allow such lawlessness.
"Bitrus was legitimately and lawfully sanctioned for trying to drag the name of ITF into the mud. All those allegations are false and meant to distract attention from the main issues. He just wants to attract unnecessary sympathy. The rules are clear and he has no defense," the DG said. He stressed that ITF is not a political party hence the allegation by Bitrus that he is supporting an aspirant is baseless.