HALLIBURTON SCANDAL: CONFESSION OF OBJ'S MEN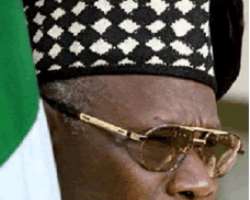 Olusegun Obasanjo
Details of the involvement of the special assistant to former president Olusegun Obasanjo, Mr. Bodunde Adeyanju, who is standing trial before an Abuja Federal High Court on a six-count charge over the $180 million bribery Halliburton scandal have emerged.
Available records in the possession of Daily Sun indicated that Mr. Adeyanju had, in a confessional statement to the Police, claimed that sometime around 2002/2003, when the ruling Peoples Democratic Party (PDP) was in crisis, he approached Mr. Gaius Obaseki amongst other people for financial assistance for the party.
Bodunde, who was arraigned by the office of the Attorney-General of the Federation and granted bail in the sum of N1 million by the court had, in the confessional statement dated June 22, 2009, admitted before the Police that he collected monies in three instalments of $2million, $1 million and $1million US dollars respectively, adding however, that other disbursements were delivered to Alhaji Lawan Batagarawa, the former minister of Integration and Cooperation in the administration of President Olusegun Obasanjo administration.
Bodunde Adeyanju claimed to have been born in Ekiti in 1964 to Mrs. Elizabeth Adeyanju and late Mr. Lawrence Adeyanju. He added that he was a 1987 Sociology graduate from University of Lagos after which he did his National Youth Service. He later did his postgraduate programme in History in 1991 before working as a sales representative with a private firm and later joined the African Leadership Forum in 1994 as personal assistant to the former president Olusegun Obasanjo.
Bodunde, who pleaded not guilty before the court on the six-count charge, however, told the Police in his written confessional statement that he received the monies in three instalments on behalf of the ruling PDP which was facing financial difficulties, owing to the rift between the former president Olusegun Obasanjo and his deputy, Atiku Abubakar, that affected the funding of the party.
The Statement reads in part; 'I Bodunde Adeyanju a Sociology graduate of the University of Lagos and an aide to former president was born in Ekiti State in 1964. My parents are Mrs. Elizabeth Adeyanju and late Lawrence Adeyanju. Having graduated in 1987 and after NYSC I worked in a consultancy outfit for nine years and later went back for the graduate programme in history in 1991. I worked briefly as a sales representative for Food Beverage Services Ltd. From there I moved to Obasanjo's African Leadership Forum (NGO) in December 1994 as the personal Assistant to the former President till he came to the government in 1999. At the inception, I was his personal assistant up till 2003 when the portfolio was changed to SA.'
Bodunde said he was the personal assistant and later special assistant to former president Obasanjo but did not, however, state his position in the party either as a national officer or financier of the party that required his intervention in sourcing for funds for an insolvent party. However, he maintained that he collected the monies for the survival of the party and for the purpose of prosecuting election campaigns.
Part of Bodunde's statement to the Police stated thus; 'sometime around the year 2002/2003 when the party was in deep crisis, i.e. 'PDP,' of fund, I approached Gaius Obaseki among others to help assist the party at that time of the crisis and at the first instance he did not but later after much talk and discussion which was about 3-4 weeks after we met….'
The special assistant to the former President, however, claimed that he not know Halliburton and that he did not carry out any business with them. He equally denied having any contact with anybody working with the company, stressing that all he collected was for the party through the assistance of Mr. Gaius Obaseki, whom, he insisted, called him on all the occasions to pick up the money.
'The total amount might be around $4-$6 million US dollars in two or three tranches in a briefcase. All what was collected was handed over to the party and on no occasion did I have any meeting with anybody on the issue,' Bodunde said.
Bodunde further said other prominent Nigerian businessmen (names withheld) were contacted to assist the party, adding that in all the transactions, his colleague, Mr. Andy Uba, who was also special assistant to former president Obasanjo, was kept abreast of every development even as he added that the said monies were collected by Alhaji Batagarawa for the party variously at Julius Berger office and Nicon (Hilton) Hotel.
In another statement to the Police dated 23/6/09, Bodunde said there was no witness between him and Batagarawa when he (Batagarawa) collected the money from him (Bodunde) since it was based on trust. He said Alhaji Batagarawa was a trusted and loyal party member during the crisis period.
Bodunde further said; 'He (Batagarawa) was one of those to be trusted around us then.'
In his own separate confessional statement to the Police dated 23/06/09, a representative of Julius Berger Nigeria Limited, Mr. Mark George (a German), said when the company was approached by Mr. Gaius Obasaki to assist in funding the PDP, it turned down the request based on his company's policy and legal advice not to donate money to a political party.
Mr. George, however, said he was later approached by Mr. Stockhausea, seeking the assistance of Julius Berger to provide logistic support to move funds, which did not belong to it to the PDP on the request of Mr. Obaseki, adding that after some thoughts and concerns, he accepted to assist as a way of supporting the democratic process in Nigeria.
According to George's statement to the Police; 'In August 2002, a first transfer arrived in an account with Union Bank of one million USD. Subsequent transfers took place twice in January 2003 and April 2003 of 1 million USD.
'The total amount remitted added up to $5 million US dollars. I informed after every transfer Mr. Obaseki that an installment arrived.' (Sic)
George further said: 'In February 2003, I was requested by Mr. Obaseki to provide and move some funds. I packed 1 million USD in a pilot suitcase, drove to Hilton Hotel, went to the room of Mr. Obaseki and met Mr. Obaseki and a representative of the PDP, whom I was told is Mr. Bodunde. I handed over the suitcase. I believe I mentioned the amount and left.
'This procedure, I executed three times myself, each 1 million USD. One handing over took place at the premises of JBN, when both persons arrived in the evening with a Jeep and loaded it with the equivalent of one million USD, amounting to 140 million Naira. One transaction in Naira-equivalent was executed on my request by Mr. Christ,' Mr. George said, stressing, however, that Julius Berger, as a company, was not involved in the Halliburton bribe scandal.
In his own two-page statement dated 30/06/09, former Minister of Integration and Cooperation, Alhaji Lawal Tukur Batagarawa, said he might have collected monies from Bodunde between 15 to 20 times, totalling about N30 million and not in dollars, adding that on one or two occasions, he asked his orderly, Wilson Osuagwu, or his Chief Detail, Usman Danlami, to go and collect the money.
Commenting on the source of the money, Batagarawa said all he knew was what Bodunde told him that Mr. Gaius Obaseki would talk to some friends to help the party, saying, however, that; 'who these friends are or what interest they represent, I do not know. As such, to the best of my knowledge, the source of these funds I do not know.'
In his own statement to the Police, former Group Managing Director of the Nigeria National Petroleum Corporation (NNPC), Mr. Gaius Obaseki said he did not know what amount Mr. Adeyanju Bodunde ever collected from Mr. George of Julius Berger neither did he ever acknowledge receipt of such monies.
Mr. Bodunde is being charged with accepting cash payment of one million US dollars from Mr. George Mark between 2002 and 2003, contrary to section 1 and 15 [d] of the Money Laundering Act, 2004 which is punishable under section 15 [2] of the Money Laundering Act, 2004.
The personal assistant to former President Obasanjo is also accused of accepting cash payment of N140 million from Mr. George Mark of Julius Berger Nigeria Limited thereby committed an offence contrary to Section1 and 15 [d] of the Money Laundering Act, 2004, which is punishable under Section 15 [2] of the Money Laundering Act, 2004 in addition to another $500,000 US dollars from Mr. Hans George Christ between 2002 and 2003 thus committed an offence contrary to section1 and 15 [d] of the Money Laundering Act, 2004 also punishable under Section 15 [2] of the Money Laundering Act, 2004.
The Federal Government had earlier withdrew charges against Julius Berger Plc over alleged complicity in the $ 180 million Halliburton bribery scandal based on a mutual agreement between the two parties even as the government seeks to file a civil action against Halliburton Corporation of the United States towards getting compensation and restitution.