STYLE HARA – KIRI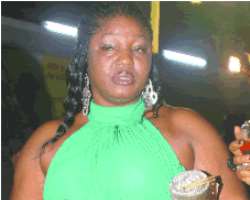 Benin-Ore road
Big sister, honestly we agree that big is beautiful but what we outrightly disagree with is displaying your flaws obvious. Your arms remind us so much of the Benin-Ore road and we are so vexed in the spirit ma. Well since your lawyer wants you bailed we will grant you bail on the condition that you will hereby be placed strictly on cereals and whole grains and this would be under the supervision of DPO of Alakara police station.
Forest of one thousand…
Your hair says a lot about who you are. Our conclusion is that the forest of one thousand demons is better compared to what you have up there. Reports reaching us state that you caused a stir in a public place and for committing this offence you are to pay a
fine of N500, 000.




Mini sinner
You look so over-done in your mini dress, especially with this untamed pair up there. This is contrary to section 423 subsection 231 of the mini dress Act. Honestly we need not ask how comfortable you are , because you kept on tugging at the hem of your dress as if it would make it longer. For flagrantly flouting the law, you are to pay a fine of N1million.Mini Acts.


Overflowing cups
Chey, is that your bra popping out. We know how far you went in order to get a matching Victoria Secrets bra , but that doesn't mean you should spill the solid contents should spill out. And for the cleavage, we will
leave that till the next hearing. Until then
pay a bail bond of N800, 000..
.


Suicidal
According to the style suicide act of 1961, suicide is an act of intentionally ending one's own cleavage cycle. Haba! What fashion statement are you making with miserable tits. You have been found guilty of maliciously making the life of your milk factory unbearable and the law states clearly that a person who aids, abets, or procures such ill treatment in the name of fashion shall be liable on conviction to a term of imprisonment. You're hereby found guilty and sentenced to 12months at the Kirikiri maximum prison.


Cat's out of the bag
Girlfriend, beauty is not all about bare legs, tits and what have you. But it is what is inside of you. Get a life please and show more morals. The colour alone is screaming sexy, you should have at least toned it down with a jacket or tights and you would still look stylish.
For exposing ourteenage sons to this
mobile porn you have been fined N1.2million.