EGBE TO ENYEAMA, WORK ON YOUR WEAKNESS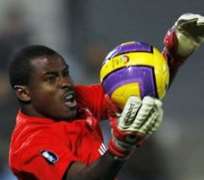 Enyeama
Former goalkeeper of the defunct Green Eagles, Etta Egbe, says Vincent Enyeama, the current Super Eagles' No.1, can only perform better in international assignments if he works hard on his weaknesses.
Egbe, who stated this in Calabar says Enyeama's weaknesses include his failure in catching aerial balls and stopping pullouts from the 18-yard box.
Egbe, the current coach of Voice of Nigeria FC, Abuja, says: 'I had always said that Enyeama would be a better goalkeeper if he would listen to instructions and work hard in correcting his weaknesses.
'Enyeama is not flexible enough. If you watch most of the goals he had conceded, you would discover that he is not good in cutting off aerial balls and stopping pullouts.
'A good goalkeeper stops shots from the 18-yard box. But Enyeama has not been doing well in this area, despite the fact that keepers are protected by FIFA, which would not allow any player to play rough against any goalkeeper within the 18-yard box. 'Enyeama is good, but he should learn how to go for aerial balls rather than wait for the ball to sail over everybody's head and someone will scores. At that point, even a defender can score against his goalkeeper.
'He should go back and watch all the goals he had conceded and try and work on his weak points.
'Meanwhile, our players should aim at playing in more competitive leagues that can make them become world-class players and not shinning in those leagues where goalkeepers are usually the highest goal scorers,' Egbe said.
The former coach and goalkeeper of the defunct Calabar Rovers further said that he has no regrets being a footballer. 'I have no regrets whatsoever being a footballer. I paid my dues in the game. I made people happy with my game, because any time we won a match, we made people happy and with Rovers, we hit the national football pinnacle,' he enthused.