Catholic Priest Arrested for Kidnapping in Aba…. Ammos, 2 Bank Safes Recovered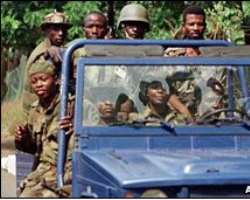 Residents of Abia state took a rude jolt yesterday when a Catholic Priest (names withheld) was arrested for his alleged role in the kidnap menace ravaging the Aba area of Abia state, Nigeria. The priest is now telling the State Security Service what he knows about the insecurity in Aba, the once commercial capital of the region, especially as it concerns his aiding and abetting kidnapping in the area.
  The arrested catholic priest who is in charge St. Michael's Catholic Church Umueze Mgboko in Obingwa L.G.A. in that area was apprehended when the military stormed the community  to arrest one of the kingpins of kidnapping simply known as SUSU whose camp is located in Obingwa.
  According to the Deputy Director Army Public Relations Officer (DPRO), Lt. Col Sagir Musa who spoke with journalists at the village "the kidnapper`s group operates with a high level network, which enables them to alert their members when the security men approach the town".
  Musa who said that the kidnappers have a security check point with sand filled bags, 'from there once you get to that point you cannot but be kidnapped and one surprising thing is that they have their camp behind the Catholic Church and share the same water borehole with the church.' 
  He said that when the military stormed the place around 3am in the morning, there were hoodlums sleeping inside the church while others were at the school compound adjacent to the church, 'once we got close to the place they ran into the bush and when we searched the church we found sleeping mats, two bank safes, empty boxes of ammunition and other personal effects'.
  Also some ammunition were said to have been recovered from the priests personal car parked in the church premises which has been impounded by the security forces.
  A member of the church who spoke to huhuonline.com under anonymity expressed shock at the development saying that the church authorities could not possibly justify their close relationship with the hoodlums all these while, describing it as the height of 'sacrilege and betrayal.'
  The Obingwa area raided, huhuonline.com gathered is controlled by the kingpin simply known as Susu while the Ukwa area of the state is controlled by another kingpin, Obioma Nwankwo otherwise known as 'Osisi ka nkwu', both of whom are still at large.
  Meanwhile, the Abia state Governor, Chief Theodore Orji has put a prize tag on Osisi ka nkwu pledging the sum of N5m to anybody with information that could lead to his arrest. Same Nwankwo has been accused of kidnapping the 15 school kids and mentoring young kidnappers, murder, rape and killing of policemen.
  Huhuonline.com also gathered that about 174 persons have been killed, 237 arrested and 7 council chairmen quizzed in the ongoing joint military operation to sanitize Aba, Abia state Nigeria.