'We Wont Tolerate Criminality' – Jonathan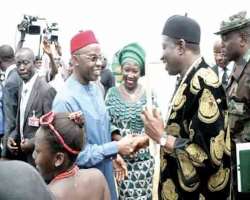 PHOTO R-L: PRESIDENT GOODLUCK JONATHAN IS WELCOMED TO IMO STATE BY STATE GOVERNOR, IKEDI OHAKIM.
ABUJA, Oct 16, (THEWILL) - President Goodluck Ebele Jonathan has expressed his administration's resolve to tackle criminality and insecurity in the country head-on, vowing that soonest there will be no hiding place for criminals in the country. The President stated this while responding to questions from a cross-section of Imo State indigenes at a town hall meeting which held in the multi-purpose hall of the Imo Government House, as part of his two-day visit to the state. Speaking on the security situation particularly in the South- East region, President Jonathan said the nation needed a "strong legislation" to confront the worrisome security situation. Hence, he said, the Federal Government would review the anti-terrorism Bill currently before the National Assembly to meet the current security challenges. "I have directed the Attorney General of the Federation to review the anti-terrorism Bill before the National Assembly. "A kidnapper or robber for instance must not be allowed to own any property in and outside the country. Such property will be confiscated and handed over to government. No part of this country will be a sanctuary for criminals," Jonathan warned. The President said Federal Government will leave no stone unturned to deal with new forms of terrorism in the country by procuring helicopter gunships and distribute to states to help in combating crime. On the current strike of lecturers in the South Eastern Universities, President Jonathan said the Federal Government has waded into the crisis to find a lasting solution to it. The President reassured that government is committed to revamping the education sector towards a productive workforce. He said the 6-3-3-4 system of education would be reviewed to strengthen primary and secondary education in the country, in line with resolutions at the recent education summit held in Abuja. Imo Governor Ikedi Ohakim said the town hall meeting was organised for government to feel the pulse of the grassroot people on governance and know areas to be improved on.
Important dignitaries present at the town hall meeting included the Governors of Bayelsa, Abia, the Minister of Labour, Women Affairs, Water Resources, Interior, Minister of State for Works, notable politicians and members of the business community of the state.