COST OF LIVING PUSHES RESIDENTS OUT OF ABUJA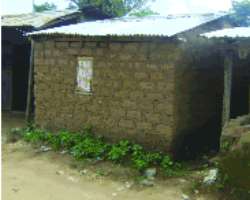 A hut for rent in Apo
Apo village in Abuja, the Federal Capital Territory, (FCT) came into limelight during the gory murder of six traders by the police who they falsely branded robbers. The incident was later to be known by the media as 'Apo Six'.
Years later in the days of the bulldozers in the FCT, no thanks to Nasir El-Rufai, Apo, the prominent shantytown of Nigeria's capital bounced back into reckoning. But like the former incident that was not so palatable, Apo's renown again was negative. It was the butt of an overzealous bulldozing mayor.
Apo no doubt became a fertile experimental ground for the search for a masterplan that was bent and tilted in the direction of the powerless and enemies of the people in charge. But Apo is just one of the many shanties and rustic sore points of Abuja. What actually makes it an easy target for sordid experiments is the closeness to the prying eyes of the men in charge.
It might interest you that it is a little gap that separates homes of senators from the ramshackle called Apo. The similarity of names between Apo Quarters for members of the National Assembly and the Apo shanty is a matter of very close affinity and contiguity, and not a coincidence.
It was no surprise that Apo village had the wear, tear and scars of El-Rufai's bulldozer's teeth and claws. Right now, even those pushed out of the other areas found a place to squat in Apo. It became a gallery town of sort and a home of refuge. But that notwithstanding, Apo, has not actually recovered from the pains of the past, it is a fading town and a lost colony and paradise for the low class Abuja residents who used to pitch their tent there and spread out commuting every morning and evening in search of a means into the heart of the city known for money sharing and beyond-word expensive cost of living and her ghana-must-go largesse.
The reason Apo is fading into the evening shadows is not because it is no longer habitable or outlawed. Apo is disappearing from low class status and reincarnating into a highbrow back street city. What happened to Maroko in old days Lagos that died and sprout new tendrils of what is known as Victoria Island Extension and Oniru top class estate is what goes on in Abuja's Apo.
Interestingly, beautiful buildings owned by wealthy Abuja residents, mostly government officials, now occupy the old Apo village. Yet, the new Apo, where the lower castes have been pushed to has been marked down for more demolition and this is confirmed by a government order to vacate the area as written on the walls of most of the mud houses there.
Saturday Sun discovered in new Apo a peculiar lifestyle of its residents now caught in palpable fear of demolition. There are among others mushroom hostels that are haven for philandering men and ladies in unrepentant libidinal adventures. Sultry young lady sex workers dot the streets and dark dirty corners of Apo even in the day. They have one thing in common – living in ramshackle, patronage of loose life and laissez faire. Most houses in Apo are built of wood and pan. Other interesting spots that provide temporal relief for the residents include the burukutu joints, several beer joints, the Chairman Hotel and Night Club, Lady P Motel, Happy Nite Hotel and of course NKST Church behind which is also a football field where able-bodied youths keep fit and groom their skills with an eye on professional football someday.
Most Nigerians resident in the new Apo are commoners and lower class workers in the lower ranks of government office hierarchy. Security men, petty traders, conductors, drivers, artisans, mechanics, shop owners among others have a haven in Apo. Cheap accommodation and cost of living is the lure in Apo a city vastly known for cutthroat cost of living.
Built of wood and now almost collapsing, the Burukutu joint is a conspicuous shack sitting amid other mud houses in Apo. Young ladies already living as wives with men serve burukutu, pete and other local brews. Burukutu is a local alcoholic drink made from red guinea corn by northerners, while pete is a mishmash of local vegetables, fishes, and other ingredients cooked as salad. The joint is a caller's delight as everyone who goes there relishes its drinks and serenity with accustomed flair. Saturday Sun engaged a resident who came to drink in a chat and he opened up on the fear lurking in his mind and other residents of Apo.
He divulged the anxiety without much persuasion: 'Oga, we are living as slaves in our land. Our government has been making things very difficult for us. Since they started the demolition at the time of El-Rufai we have been moved at several times from our place which is now the old Apo at NEPA to this place. Even here we have been told would soon be demolished. That means we would soon have to start looking for another place to settle. They have made it clear to us since that time that the government doesn't want poor men in Abuja, that is why any place we settle overnight becomes target for demolition.'
Asked if there is any place they would move to if displaced, Adams said: 'We will go further into the bush. At least we have to survive, but sincerely speaking the government is not fair to us because no provision or compensation has been paid most of us whose houses were demolished. Those who get compensation from the government are those who have long legs.'
As quiet and peaceful as new Apo is, it also provides nesting ground for men in search of hawkers of flesh. There are more than five of such spots in the new Apo settlement namely Chairman Night Club, Lady P Motel, Happy Nite Hotel. They are essentially mushroom hotels built of mud and wood. Young ladies from other parts of the country rent rooms here to operate their immoral trade. Men patrons come in various classes and leanings in varying brands of cars to patronize the sex workers. A room of about five by six feet fetches a rent of N1500 per month.
Saturday Sun found out also that various kinds of hard drink, marijuana, glue and others are freely sold here and bought by men of different social class.
As government threatens Apo residents with dislocation, so Apo residents threaten themselves and the larger society with their illicit gamut of activities that thrive better in the dark than in broad daylight. Apo is pushed as much as it pushes towards extinction or further retreat into the farther bushes as the residents told us. With time, it might completely fade out of existence or from the spot where it is depending on how fast the powerful and moneybags encroach on the territory for territorial conquest.