I LOVE MAKING WOMEN LOOK GOOD – IBILOLA LADEJO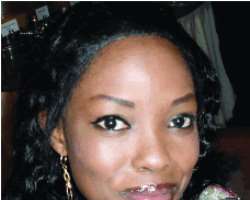 Ibilola Ladejo
Wigs and weavons are major parts of accessories for today's woman. It is a fashion statement for most ladies in this part of the world and both young and old wear them at all times. Many ladies would rather wear these false hairs, which come in different colours than their natural hair. Reason many give is that wigs, weavon and attachments last longer and neater unlike the human hair that gets untidy or ruffled once the wind blows over it.
Young enterprising Ondo State-born Miss Ibilola Ladejo, founder/chief executive officer of X10shuns, loves to make ladies look good with beautiful wigs.
Fondly called Lola by friends and admirers, this wig expert is a graduate of Bsc. Economics from Ajayi Crowther University, and is currently serving with the Ministry of Agriculture, Abeokuta.
At the recent launch of X10shuns, which was also a gathering to mark Lola's birthday, the wig guru said: 'Ladies love to look beautiful everyday. Every woman, especially, career women need wig. After a hectic weekend, it may be too tiring to go to the salon but with X10shuns' wig, that problem is solved. I make hair, I weave it and make wig. It takes me one hour to make a wig.'
According to Ibilola, daughter of the Rector of Yaba College of Technology (YABATECH), X10shuns, which began as a hobby is a wig line for the women of all social strata.
On how she started making wig, she explained: 'I have always been a bit fond of making ladies look beautiful. It all started like a joke. I used to make my friends hair at school, and everybody liked it. Then one day, I made a particular hairstyle, it looked so beautiful and my friends were surprised'. It is quite amazing that Lola didn't go to any school to learn how to make hair. It is a talent from God.
According to her, the inspiration came one day when she was in her room at school. Her plan was after school, she wouldn't continue making or fixing wig because her mum wasn't fond of it initially. But later, her mum began to show interest and now, she is so fond of her trade.
Lola, winner of the school Entrepreneur Of The Year 2007, gave tips on how to make wigs and weavons last longer. She revealed that applying oil on weavons and wigs easily attracts dust as well as make hair to tangle.
She also revealed that most wigs in the market are made of inferior materials. 'Normally, the wigs we have in the market cannot be tonged. Many are fake but the public is made to believe that they are original human hair. The ones I make can be tonged, washed and they don't tangle. I import my products,' she added.
The lady, who is still in her early 20s, sees herself going places with wigs. 'There is nothing wrong with me going to the office as well as having time for my wigs. I love what I do. I am proud of it,' stated Lola.
She intends to go international in wig business.