WE'LL DO SOMETHING ABOUT ZIK'S MAUSOLEUM — JONATHAN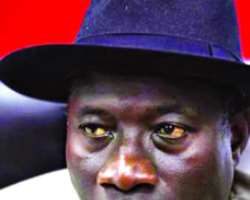 Jonathan
President Goodluck Jonathan yesterday described Anambra State as the brain base of Nigeria. He also promised to do something about the resting place of the late elder statesman, Dr. Nnamdi Azikiwe.
Addressing the people of the state, at the Alex Ekwueme Square, the president, who was in the state on a one-day official visit, said that though Anambra State was small in land mass, it is the biggest in the country, in terms of brain density.
Jonathan, was impressed with the state, especially the commissioning of two private industries in the state, and said the state has continued to play a leading role in the development of the country.
He commended the state government, under the leadership of Governor Peter Obi, for the giant strides it has recorded with its meager resources.
He said: 'Today is a special day. I am here on a one-day state visit to see what the state government has done over this period and I am quite impressed with what the government has done, considering the resources of the state. We have commissioned quiet a number of projects, road projects. I've also commissioned a private company that manufactures vehicles and I am also to commission another private factory.
'When I commissioned the factory, I did mention to the people that Anambra State, in terms of land area, is a small state, but in terms of brain density, I think it's the biggest state in Nigeria.
We have the brain and highly skilled people concentrated in this area; so I'm not surprised by what I have observed and even historically, we know the great names, whether you talk about politics, sports, academics. Definitely, great names from Anambra State will continue to echo.
'So today I'm here to join you to celebrate greatness and hard work, commitment, dedication and excellence. Let me sincerely thank all of you because from the time we came in till now, we've seen the warm reception; you have taken me as part of you, which I am. In fact, I was reminded that our father's mausoleum has not been completed and we are going to look into that project.
'For my great people of Anambra State, I greet you and I assure you that we will continue to work together, continue to thank you for your support for us and to remind you again and assure you that in our journey to transform this country, I will not let you down.'
As a mark of solidarity and welcome to the president, business premises, markets and schools in the state, especially in Awka were closed and people came out in their large numbers to receive him at every community and point he either passed through or commissioned a project.
School children in their clean uniforms and Nigerian flag added colour to the visit, as they lined up along all the roads the president passed through, chanting songs of praises to Jonathan.
Also, governors of the nearby states, including those of Enugu, Ebonyi, Abia Delta, Edo and Akwa Ibom States graced the president's visit,
President Jonathan, in the course of the visit, commissioned the Innoson Motor Assembly Plant, Adazi-Nnukwu-Obeledu-Oraeri-Igboukwu road, Agulu-Aguluzigbo-Igboukwu road built by Master Holdings Construction Company and Agulu - Enugwu-Ukwu-Nri road.
Others include NAFDAC Laboratory, in Agulu, Zik Avenue Road, State Emergency Management Agency (SEMA) Complex, Juhel Parental Drugs Factory, Jerome Udoji Secretariat Complex, ASUBEB complex, General Out-Patient Department (GOPD) Building at the Anambra State University Teaching Hospital Complex and laying of the foundation stone for the hospital theater complex.