WHY I WANT TO BE GOVERNOR – MASARI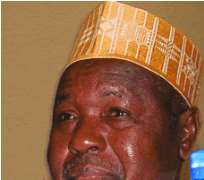 Masari
Former Speaker of the House of Representatives, Hon Aminu Bello Masari, has given reasons he is in the Katsina State governorship race on the platform of General Muhammadu Buhari-led Congress for Progressive Change (CPC).
Masari told Saturday Sun that he is set to take Katsina State to the next level. He spoke on this and other issues.
Why are you interested in occupying the Katsina State Government House?
Let me start by saying that my experience, particularly in the parliament, has, in no small measure, really influenced my decision to seek for executive office. As I said from my experience, I was number four in the line of protocol and in the line of position, but all the same, my experience taught me that a chairman of a local government, the governor and the president, stand a better chance and opportunity to impact positively on the lives of people.
As a parliamentarian, you can pass laws for good governance, pass budget that is people-friendly but when it comes to real execution, a lot of things happen that the desired objective of budget is normally not met and in a developing economy like ours, where government is handling 100 per cent of our lives, it requires people who are really sensitive to the yearnings, feelings and aspirations of the people to hold executive positions so that they can use that executive position, use the resources available to that position to impact positively on the lives of the people they govern.
I have studied Katsina, from one situation after another, and I found out that if really I want to turn around the lives of the people of Katsina for better, then I have to be directly involved, by way of being in charge as a governor. Let me give you one simple example that if you can transform the local government system in Katsina today, you have done a lot to the economy and the welfare of the people of our locality. And for selfish reasons, the government  is not just doing that.
The government has appropriated the powers and functions of a local government and they have made election into local government a nonsense, inconsequential and of no effect. In fact, it is even better to head a department, rather than a local government. So, this is at least, one of the reasons I feel I have to turn around the lives of our people, to open the eyes of the people that local administration is for the local people to address local needs. So, the local businessman and the local craftsman should be involved in developing their society and not importing everything. If you take a look at my local government of 20 years, today, nobody in my local government is a businessman or a craftsman who has benefited through the process of local government in the last 20 years. In reality, it has not built the capacities of people and it has not transformed the lives of people.
There is one Hausa musician who says in Hausa that the number of people, the crowd, is what makes the market and not the shades. As far as the local government administration is concerned, when the people are not involved in administering the resources allocated to that local government and through the federation account, then it is unfortunate. We expect a state government to only do monitoring on the basis of the budget passed by the local governments. If a local government, through the council passed a budget, a copy is deposited with the state House of Assembly and a copy with the inspectorate. The inspectorate are to monitor to ensure that based on this budget, how far have you gone and where is the money? This is monitoring.
This is what they are supposed to do. And the state House of Assembly is also supposed to also carry out their oversight functions on those local governments and anybody who is abusing due process, you take him to court. But in a situation where a governor appoints either a commissioner, a special adviser or a director and gives him all the powers that the local government chairman who is elected by the people, who should be responsible for his people does not have and  has to come and dobale  (prostrate) before somebody, an appointee of the governor before he can work in his local government, then things can never work well. And in most cases, 90 per cent of the works being done in local governments are done by people not from that local government.
So, how will they know the local needs?
Exactly. So, the reality of the situation is to return power to the people. That is all what we are talking about.
What are the immediate challenges of Katsina right now?
The immediate challenges are high level of poverty, high level of unemployment; the schools do not have teachers, do not have facilities and the hospitals do not have doctors and facilities. People just put buildings in place to attract the attention of passers-by, but go to any of these new day secondary schools and you find in the whole place, only one permanent teacher and in some places, only three permanent teachers. How can one, two or three teachers teach a crowd of over 500?
Some people say that your party, the CPC, is very new and the Peoples Democratic Party (PDP) has been in government in that state since 1999. How easy is it to dislodge an incumbent government, especially when some people believe he has performed?
It depends on who is saying that somebody has performed or has not performed. Dislodging the government in power was done in Kano, Bauchi and Lagos. So, it is possible. People can do it. Even in my state, Katsina. There were some local governments in which PDP did not win during the state House of Assembly election. Even in Edo State, the PDP was dislodged. So, it is possible if people are united to have a change.
If you say a government has performed, what is the index you are using? Are you talking of passing through a road that goes to a certain place that has no vehicle plying it? Or are you talking of a road that is not in anyway improving the economic life of the people or an empty building called hospital that has no medicine, nor doctors and nurses? Again, are you talking of a school that has no teachers and teaching materials? You see, some of these things are done to deceive people and are normally by the road side. Why can't you go into the hinterland and do them? You do things by the road side so that anybody passing by would say ah, this man is working. No. That is not the issue. The issue is: what is the contentment of the people? The people are pauperised. I think we have the second highest rate of poverty in Nigeria maybe after Jigawa. Then, what are we talking about performance? Performance is supposed to be measured by the quality of lives of the people and not by empty buildings.
What are the processes you have put in place to ensure that you dislodge the incumbent governor?
I think some of the processes in place were put by the governor himself, of non-performance. And these are some of the issues we are going to bring out when we formally declare; that this is what the CPC government has for you and intends to do for you in 2011. Right now, I will not tell you the details of how we intend to dislodge them but we are dislodging them through the ballot box.
Are you envisaging a free, fair and credible elections in 2011?
The president has said so; the Chairman of the Independent National Electoral Commission (INEC) has said so, but I don't believe so. Not because I doubt the credibility of the INEC chairman but because of the weaknesses of the institutions that make elections credible.
Now, we are battling to have a credible voters register and even the two weeks given by INEC, I think is too short to register over 150 million people. I don't know how many Direct Data Capturing (DDC) machines they are deploying to do that in two weeks.
Secondly, we are also very much concerned now that the Electoral Act is about to be amended. We feel that it will cost less, in terms of money, in terms of time and in terms of resources to have this election in one day.
Again, up till now, the role being played by the police is frightening because we are receiving reports from all over the federation, about the harassment of policemen because of posters. If a policeman is harassing you because you place a poster, that means he is saying you are opposing the government. What role do you expect that policeman to perform during election? Some of the security agencies are taking sides and that is why I am saying that even if Jega wants a credible election and the bureaucracy of INEC is strong enough to ensure free, fair and credible elections, the institutions that are supposed to support credible elections such as the police, seem to be biased for now.
In most of the states, we receive reports of police taking sides; most senior police. We are not talking about the ordinary policemen. The ordinary policemen are with the people but the commissioners and above are taking sides at state levels because they are collecting money from governors on security and all that. I think one thing is that the government has to detach the commissioners of police from the governors. Government has to establish the commissioners of police on a state level to the effect that the commissioner of police  does not need to go to the governor, looking for logistics in order for him to carry out his responsibilities. If the commissioner of police has to go to the governor or has to depend on government for logistical support and local needs in order to do his work, then what stops us from having state police because what we have now are even worse than state police.
They are called Nigeria police but actually, they are likely not.
Former Inspector General of Police, Coomasie, in an interview, said we no longer have Nigeria Police. He said we have either policemen of the government or policemen of the big men. So, for us to have credible elections in the states, it means the Federal Government has to detach the police from governors and take care of their needs so that they don't continue to depend on the governors in order to do their operational duties. The same applies to the State Security Service (SSS). They should not, by any standard, ask for accommodation or whatever needs, except to collaborate. What the police and other security agencies, like the Army and the SSS, do in a state is to collaborate with the state for security and not depending on the state for assistance in order to do their constitutional duties. And in that regard, it shows they have compromised. If the institutions that are supposed to be neutral in elections have taken sides, what do you expect? So, with the best of intentions from Jega, I still have my doubts.
If the elections are rigged, what should Nigerians do and what does it portend for the nation?
You see, part of the problem I have seen in this country is that we got our independence on a platter of gold and we are playing with it. So, let us use the ballot box to fight for our real independence. If we don't use the ballot box to fight for our real independence, then there will never be real development.
Fifty years in the life of this nation, we are grateful  that the country has remained one. In Europe, Asia and some parts of Africa countries that started with us 50 years ago have gone far. We are promising water, promising education, healthcare and shelter, when those countries have already met these issues. You don't expect to go to any major city, even in Egypt, and you open the tap and there is no water, or you come out and there is no bread. That is given. These are issues that are mundane and are given, but in 50 years, we are still struggling at where we were. Even in terms of infrastructural relief, look at Nigeria.
Those of us who were able to travel to some of these countries some 30 years ago, can compare today that the infrastructure in most of these ancient, underdeveloped countries that were on the same level with us 30 years ago are now better than ours. In some cases, Nigeria's infrastructure was even higher, but today, our own has gone down drastically and their own has gone up. You cannot even compare that we were on the same level with them some 30 years ago. So, the reality of the situation is that the opportunity for the people is now and the opportunity is through the ballot box. That blood that we did not shed to get our independence, we better shed it to make sure that the ballot box works.