NDIDI OBIOHA: WHAT STANDS ME OUT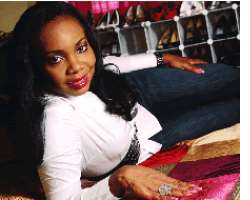 Ndidi Obioha
Ndidi Obioha is the Chief Executive Officer (CEO), Enthyst Event Management. Five years in the business, her event management outfit has hosted countless events which include top celebrity weddings and birthdays. Her first ever Valentine's Day Ball and Boat Cruise held few years back still remains fresh in people's memory.
She is not just a planner, she conceptualises, organises, defines, packages, plans, manages and co-ordinates events. Before she ventured into event planning, she had a stint in the banking industry. A graduate of International Relations, Ndidi hails from Arondizogu, Imo State. The mother of three kids (two boys and one girl), is also a stylist and is noted for her good sense of style. She is very trendy, but then, simplicity is her key.
How did you go into event packaging?
I have always had passion and calling for it. I have always had the gift to be able to organise no matter how little and it comes out professionally. For me, it is a passion-driven kind of occupation which started as a hubby, and now has grown into a very professional kind of business
Five years into the business, how has it been?
Fantastic. God has been good. It has been fun because it is something that is driven by passion. For every event I do, I have fun doing it. My whole life is about events. It has been good.
How has the job affected your life?
It is about meeting people. It has created good networking for me. I 've always been a devout person, so it has always been easy for me to be able to achieve whatever I set out to do as an event person. I 've been able to meet a lot of very good people and my network has increased.
What challenges have you faced in the business?
As an event person, when you are working with a client who is not willing to let you bring your ideas to bear, it is a problem. We are an event consulting company, we are not just an event planning company. Planning is just a bit of what we do. But the part that gives me the joy I derive from being an event consultant is when I am able to bring my creativity to bear, which is the fact that we are able to conceptualise every brief we have been given and turn it to reality and the 'thank you' we get from the client. So, if you have a client that wants the whole world but is not willing to pay for it, it becomes a problem. Some clients try to cut corners. I like honest clients. It makes my job easier. That way we know what we are dealing with from the onset.
What stands you out from other event consultants?
We are very creative, professional and very detailed. I am different from the others in the industry because we conceptualise events. We're very creative and specialise in doing the unusual. I brainstorm with each client, building on concepts in the form of ambience, food, entertainment, table decorations, and formulating good strategy thereafter.
Of all the whole events you have handled, which is more exciting for now?
My biggest event, the Inspire Africa Concert with Mo Abudu, has been my most exciting to date. It involved international and local artists and we were brought in as the event managers and not event consultants. There is a difference.
What did your parents tell you when you were growing up?
My parents told us to be very confident children when we were growing up and that we should be able to feel free to express ourselves. And because of that, I am always ready to try my best. I am never afraid of challenges or taking risks. I dream it and I do it. I am lucky that I married a fantastic man who supports everything I do, so there is nothing stopping me. I just keep going. My parents taught us to believe in ourselves. Every dream that we have we try to make it a reality.
Does your upbringing have anything to do with what you are today?
Totally. My mum is a very enterprising woman and a goal-getter, and I put in a lot of those qualities in me. My upbringing has a lot to do with whom I am today.
Any memorable event?
The most fufilling thing that I have done in my life was adopting my daughter. My husband and I adopted a baby girl. For me as individuals that is the most fulfilling thing I have ever done in my life. It is fantastic. Nigerians have learnt to be more open. I tell people that if every family decided to adopt a child each, definitely we will not have children on the streets. The children that are in the orphanage are the ones that will definitely get out and end up on the streets. As long as you have the heart to do it, God will give you the ability and strength to take care of the child. If every family decides to adopt a child today, we will be creating a more loving generation because our children would want to do the same thing when they grow up and we will stop having the menace we have in the society.
What is your advice to young ones?
Believe in yourself. Noboby can stop your dream. Build confidence in yourself. Never be afraid to take that bold step. Never take back your dream. Always be focused. Have that drive and zeal. But first of all, believe in yourself. Let nobody make you feel that you cannot do it.
What is your beauty routine like?
First of all I never sleep with my make-up on. I scrub and cleanse everyday because I have an oily skin. In the morning I use a face scrub and a toner before I apply my make-up.
How best do you like to dress?
I like comfort, so I dress comfortably and I try to be myself.
What is your best accessory?
I am an accessories freak. I love accessories from bags to shoes and jewellery. How best can I describe myself when it comes to shoes? I am a shoe junky. I love shoes.
Are you a designer freak?
I am not a designer freak. It is more of seeing what suits me. It doesn't matter the label. I love bargains first and foremost. I love good deals.
How best do you like your makeup?
Very subtle