WHY GOVT CAN'T DO MUCH ABOUT OIL SPILL – RIVERS STATE COMMISSIONER OF ENVIRONMENT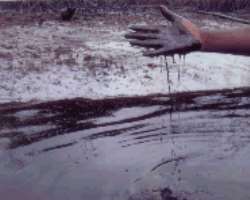 A few months ago, heaps of refuse dumps were the trademark of Port Harcourt, Rivers State capital. Today, not only are the streets clean but also a major transformation has taken place in the environment.
Hon Kingsley Chinda, Rivers State Commissioner of Environment, told Saturday Sun recently that the magic of Port Harcourt's cleanliness was the enactment of an environmental legislation bill. According to him, the bill took care of grey areas that were hitherto not taken care of, especially, as it concerned oil spill in the state.
He said that a time frame has now been attached to the issue of oil spill, in the new bill. Also, he said that special courts have been set up for environmental matters.
The commissioner also spoke on what his ministry is doing to ensure a clean and green environment. He talked about his determination to turn Rivers State into the Garden of Eden of Africa.
Port Harcourt is a lot cleaner now. What is the magic?
A few months ago, you could see heaps of refuse dumps everywhere. Because we believe in sustainable programmes, we took the integrated waste management and drew up a programme. Of course, the first step was to identify black spots in the city and overhaul the entire system. Besides, we started preparation for end point, where we could accommodate the waste and turn them into wealth. In most cities of the world, they recycle waste. So we started a mechanized dump sight alongside the waste-to-wealth programme, which saw the building of compost post plant for conversion of biodegradable waste to organic manure. We commenced a new sanitation regime where we ceded major parts of the city to professionals and our local contractors are working with them.
Is there any monitoring mechanism to check the success or otherwise of this programme?
We have set up a tracking method to ensure that they are followed up. We move round to find problem areas and we quickly intervene. We also have a team that we use for intervention. So where the contractors isn't fast in intervening, ours will do and we surcharge the contractor.
What have been your major challenges since you assumed office as the commissioner of environment?
I would say that my major challenges are the people. I always point at the people because in this sector, we are dealing with people and it has been difficult. When we came in, we did studies on areas we need to focus attentio and how best to go about it. We found out that the people's attitude is a major hindrance and it is difficult to change that, particularly persons who seemingly appear to be more intelligent than you. As a matter of culture, our people find it difficult to adhere to rules and regulations. They always want to play outside the box. When you say, do not litter, even if you make effort to ensure that the place is not to be littered, you find out that the place is littered and you begin to wonder whether it is actually human beings that did it or not. That has been our greatest challenge. The inability of people to comply with the rules and regulation and our having to run around always to either persecute, arrest or sensitize people on the need to keep their environment clean yields little or no result.
Aside that, you also look at our topography. You know that we are in the wetland area; so environment problems here appear to be a little bit more serious than the people living in the upland part the country. It is more capital intensive for projects here. So in terms of funding, it has been quite challenging.
What are some of the bills you have passed into law since you came into office?
I will start with the environmental legislation bill. What we did was to look at grey areas that were hitherto not taken care of in our regulation, like the one on oil spill. We found out that there is no time frame within which a facility owner ought to do cleaning of an oil spill sight, do remediation or even pay compensation. It is left to discretion and it means that you may not do these things within a reasonable time. In the new bill, we have attached a time frame to it. Again, we also had to set up special courts for environmental matters, including oil spill cases in the state, arming the court with the powers of the high court, so as to ensure some of these regulations. If there is a default, we can take the person to special courts that will be set up to try such matters.
We also looked at areas, like air pollution. We had to work out a control mechanism. Now, we have permissible level that you are allowed to emit or any equipment is allowed to emit into the atmosphere. If you are found to be emitting carbon over and above the permissible level, it becomes an offence. Not only that, we also have a mechanism to check that situation so that it won't be just curative measure but preventive as well. We also have that task of inspecting the vehicle. For vehicles without the certification, you cannot renew them. For generating sets, we have to go round and ensure that they are within the permissible level.
We also improved on the noise pollution law within the new regulation. We expanded it to cover disco houses. For you to establish a disco house you must get the necessary permit from the urban development ministry to ensure that the location is not within residential area.
We also looked at the social responsibility law. For churches and vigil that tend to disturb the sanctity and quietude of the people, we encourage them to plunge back into the system, as part of their social responsibility. Some churches are already working with us. Some of the churches have started doing sanitation with their neighborhood. They have installed litterbins while others have started the RIV GREEN Club in their churches. We plead with the religious leaders to be more proactive, because people are more likely to respond quicker if you speak from the pulpit.
The recent oil spill in the Gulf of Mexico attracted global attention. The company, BP, was quick in reaction and cleaning exercise. In Nigeria, such happens but it is a different kettle of fish. What is the reaction of multinationals on oil spill here?
Now, let me clearly state my position of which has not gone down well with certain persons. The multinationals in the state are performing poorly. I would not blame them completely for this. I lay my blame on the international community, the government of the day, the people as well as the multinationals. I think it is completely unacceptable and unfair that as companies, you have double standards. You have a different standard in Nigeria and another standard in Europe and America or elsewhere. After the Gulf spill, particularly considering the proactive action President Barrack Obama took concerning the spill, we have received several protests, calls from our people to borrow a leaf from Obama and I say that it is not possible for the Nigerian government to take that kind of action.
Now, if you look at the relationship between the American state and the oil companies that operate there, it is not the same thing with the relationship with companies that operate here. We have a joint venture in Nigeria but the agreement is tilting towards 60-40 percent. It is 60 for the government and 40 percent for the operator. And so, if there is a spill here, what happens? It means that the Federal Government is liable for 60 percent of whatever damage that occurs. It is a joint venture and not solely the responsibility of the facility owners and that is why they are able to wriggle out of the issues and government cannot breathe too hard on them. I think we need to review the joint venture agreement. I strongly call for a complete review. This is an agreement that we entered into decades ago. Things have changed; times have changed and the society has changed. There is urgent need to change the agreement to reflect the realities of today; otherwise, we would continue to shout and struggle and it would take us nowhere at the end of the day.
Even as a ministry, we sometimes invite the facility owners but they find it difficult to come. We pass judgment here but they also find it difficult to execute. What do you do? The last option is to go to court. And you know how long it takes for a case and they are prepared to go on appeal.
Gas is still being flared in Nigeria. What is your take on this?
Our position is to have a zero gas flare in the country. We believe that the gas should be put off completely. We don't believe in just setting a date for it to stop. We are asking of an implementation of the gas re-injection project. We want the gas line project to take off seriously. We should commence full scale re-injection project. As soon as we are able to conclude this project, you don't need to tell anyone to put off the flare because gas becomes an economically viable commodity, more than crude. Nobody will drill a crude hole and waste the crude because it is money. If gas is re-injected, it would no longer be wasted and we would also benefit from the economic value. With this, we are likely to make more money from gas than crude oil.
Flooding is a major issue in the city. How is your ministry tackling it?
We have set up an inter-ministerial committee, as a short-term measure to de-flood some of the flash points in Port Harcourt, where we have specific areas with serious flooding. The committee is working to see that the affected areas are cleared of the filth. We are also carrying out enlightenment campaigns on the consequences of flooding. Besides that, the state government has awarded contracts to construct chambers along the major axis to free the areas of such heavy flooding. Some of the short-term measures are that we have begun cleaning to beautify the areas.