APPEAL COURT SACKS ONI, DECLARES FAYEMI DULY ELECTED GOV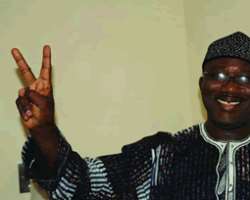 Dr. Kayode Fayemi
The Court of Appeal sitting in Ilorin, the Kwara State capital yesterday declared Dr. Kayode Fayemi of Action Congress (now Action Congress of Nigeria), winner of Ekiti State re-run governorship election and ordered that he should be sworn in immediately as the duly elected governor of the state.
In a unanimous judgment read by the president of the Court of Appeal, Justice Ayo Salami, the court ordered the Independent National Electoral Commission (INEC) to withdraw the certificate of return issued to Governor Segun Oni of Peoples Democratic Party (PDP) and give it to Fayemi.
The appellate court held that Fayemi won both the April 14, 2007 election and the re-run election of April 25, 2009 with highest lawful votes cast at the polls.
According to the court, the AC candidate won the re-run election by 10,955 votes.
The court ruled: 'Fayemi scored majority of lawful votes cast in the election held on April 14, 2007 and April 25, 2009, while Oni has not been duly elected with the majority votes cast'
'Having satisfied the constitutional requirements, as duly elected governor of Ekiti State, Fayemi is hereby declared as duly elected governor as should be sworn in immediately.'
Justice Salami, who led other four judges in delivering the over four-hour judgment, ordered Governor Oni to stop parading himself as the governor of the state.
The court, which resolved four out of five grounds of appeal in favour of Fayemi , arrived at the judgment after nullifying the contentious results of four wards in Ido-Osi Local Government Area of the State.
All the vote casts in the four wards were deducted from the final score of both candidates, thus leaving the ACN with 105, 631, while PDP scored 95, 176.
Justice Salami noted that the purported resignation of the Resident Electoral Commissioner, Mrs. Ayoka Adebayo, who had earlier rejected results of Ido-Osi based on alleged irregularities but later accepted and announced the results, was not acceptable to the court.
In his reaction to the judgment, one of the AC counsels, Chief Adeniyi Akintola, thanked the judiciary for living up to expectation, describing Fayemi's victory at the court as victory for democracy.
In his own reaction, the ACN Chairman in Ekiti State, Mr. Olajide Awe, lauded the judiciary for the boldness, which he said will go a long way to strengthening the nation's democracy.
The Secretary of the PDP in Ekiti State, Mr. Gbenga Akinola, expressed shock over the court's judgment and declined further comment.