OSAYEMI GOES ON HUNGER STRIKE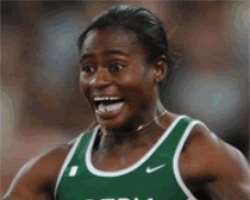 Osayemi
Damola Osayemi is yet to come to terms with her testing positive to methylhexaneamine after winning the 100m gold after Sally Pearson, an Australian athlete, who initially won the gold, was disqualified after a protest was launched against her for a false start. Osayemi, who won the silver was upgraded to gold but fate played out on her when she tested positive.
The lass who confessed her ignorance to the drug has been stripped of the gold and decamped from the Games Village. She is still in tears but her refusal to eat or drink anything since she tested positive has sent warning signals to Team Nigeria. Many who know her too well have been vouching for her innocence. 'She has been on hunger strike.
Matters are getting worse because we are afraid for her', one of the officials of Team Nigeria said. Athletics Federation of Nigeria's President, Chief Solomon Ogba, has been most helpful, telling her to put herself together. 'She has our sympathy. She is young and can still bring herself back. We are sending what she took for further laboratory tests. The IAAF will act from there and she might come back sooner than expected', Ogba said.
Dr Akin Amao, Anti Doping Officer also clarified that the IAAF will work with the AFN before determining the severity of her punishment. 'The good thing is that it is not a steroid. It is a stimulant. It makes it lighter', he said. Nigeria's Chef de Mission to the X1X Commonwealth Games, Mr Elias Gora, could not hold back tears yesterday when Damola Osayomi was expelled from the Commonwealth Games Village and her gold medal given to Natasha Mayers of Saint Vincent who initially won bronze. Gora's mien in discharging his duties gave way to emotion as tears glistened from his eyes. Secretary General of the Nigeria Olympic Committee, Tunde Popoola, provided a shoulder for Gora. It was so emotional.
When Gora recovered, he explained that he could not believe that all the efforts of the athlete turned to nothing. 'I feel so sad and I put myself in the shoes of Osayemi. I know that athletes can do all sorts of things but I can swear that that girl did not take it intentionally. She is a young, disciplined athlete and I felt for her and my country', Gora said still wiping his eyes. Tunde Popoola, NOC Secretary General also regretted it.
'It is sad. I feel bad', he said.