THE SECRET OF MY SUCCESS IN BUSINESS IS HONESTY – MOLADE OKOYA THOMAS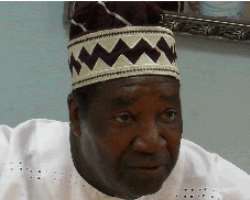 Okoya Thomas
Inspite of the fact that so many things have been written about Chief Molade Okoya Thomas, he is ever ready to let the younger generation know the secret of his success if you are lucky to track him down for an interview. .Getting the Asalu Oba of Oke-Ona, Egbaland for interview is, however, another matter entirely.
It is exciting to talk to him when you succeed but he is a man who is very conscious of time. For a man that turned 75 years in June, it is astonishing to find that his schedule is so tight; that you wonder if he ever finds time to rest.
At 75 he maintains the gait of a trained soldier and holds more than four different meetings that last long hours daily. This is obviously not unconnected with the fact that he is both a sportsman and administrator, which have richly robbed off on his business life. He was a member of the Baptist Academy relay quartet that set a National record in the 4 x 220 yards relay in 1955; the sole sponsor of Annual Asoju Oba Cups Table-Tennis Lagos State closed Championship since 1968, a keen tennis players and a former chairman, Lagos State Sports Council. For 41 years, he has single-hande bankrolled the annual Asoju-Oba Table Tennis Championship in Lagos. He is a famous sportsman and sponsor of many sporting events.
He told Daily Sun; 'I work very hard but I also find time to rest. He, however, advised: 'If you are a hardworker, you must also find time to rest.' As a Septuagenarian, it is amazing how he coordinates his business actively like a 40-year-old. 'When I leave here now, I'll go to the tennis club to meet some of my friends, and when I get there we'll talk and laugh and I make sure I laugh very well. It helps a great deal,' he revealed.
He said the movement of people between his office and the boardroom is high, adding: 'And it is like that everyday of the week. I must also say that everything depends on God. It's God that gives good health. I have carried on like this for a long time and I can only pray that it will not fail me before our Lord calls me. One other thing that has helped me is sports. It is necessary to do one form of sports to keep fit. Regular exercise enhances the flow of blood in the blood vessels.'
In business, Chief Molade Okoya Thomas is a mogul. He is the chairman of 10 companies, which are mostly French companies. He is also on the board of six others. His exploits go beyond the business circles. The Odofin of Ile-Ife has also played prominent roles in French-Nigeria associations. Between 1989 and 1992, he was chairman of the Franco-Nigeria Chamber of Commerce. Some people refer to him as the French Ambassador for Nigeria.
His relationship with the French started with his father who was CFAO's first Nigerian staff in 1902 when it came to Nigeria. By dint of hardwork and diligence, Okoya-Thomas has, today, warmed himself into the hearts of the French. He has been honoured with Chevalier De La Legion D'Honneur, the highest national honour bequeathed by France to anybody.
One thing Nigerians had always wanted to know is the secret behind the success of this man. A look at his boardroom wall shows how highly placed he is. He has hobnobbed with the high and mighty and has been honoured by those who matter. Obviously because of his exploits in business, most government in power has tried to reach out to him one way or the other. But he does not brag about this. As award plaques battle for space on his boardroom wall and his office, it is obvious that he would soon run out of space for them.
So what is the secret of his success? He attributed it to level-headedness, diligence, honesty, physical and mental alertness, hardwork and contentment. 'When you get your priorities wrong in life and business you will fail but if you get them right you will succeed.' He told Daily Sun. One of his great qualities is humility. He is also a great giver. He learnt this from his father. He is so proud of his father that he told The Sun: 'My father is the kindest man that I have ever met in my life. I saw philanthropy in my father. What ever you see me do I learnt it from my father.'
In spite of his wealth, he maintains a low profile. He also insists that he is not a rich man. 'Whatever I have is to better the lot of people.' This principle has greatly boosted his philanthropic lifestyle. Molade was born on June 8, 1935 in Lagos to Late Hussam Okoya Thomas (the first Baba Adinni of Furabay Mosque, Olowogbowo, Lagos and the first local staff of CFAO, who served the company for 52 years) and Late Alhaja Suwebat Okoya Thomas (nee Gbajabiamila, Otun Iya Adinni of Idita mosque).
He had his elementary education at princess school, Lagos, between 1942 and 1946. Afterward he proceeded to Baptist Academy for his high school education. He left Baptist Academic in 1956 as the best graduating student, thus putting his name on the school's DUX BOARD (Honors Board).
Immediately after his education in Baptist Academy, he traveled abroad for a professional training in accountancy at Balham and Tooting College of Commerce between 1956 and 1959 and a further training in Accountancy at Columbia University, New York, U. S. A. in 1981. He returned to Nigeria the very year he completed his studies at Balham and Tooting College of Commerce 1959 and was instantly employed as an accountant by CFAO. This was the beginning of a meritorious service to CFAO and a journey to the very pinnacle of the corporate world.
He told Daily Sun: 'I started as a young man, an accountant at CFAO in 1959, giving respect to what my late father told me then on my way to the United Kingdom in 1955. Before I left home, he called me and said that he would support me in whatever I decided to do but he wanted me to be an accountant like Mr. Clinton who was then the chief accountant at CFAO. My father and two French men were the first to work at CFAO in this country. After working for a long period, at least for 52 years, he retired. Even after his retirement, he could not stay at home; he still wanted to go to the office on daily basis. That continued until he was too weak to go out.
'I kept that promise made to him. And I believe that it was because I heeded his advice that God has blessed me. It is very important for children to listen to their parents and do their bidding, even when they have passed away, the blessing of God will always be on you.' Why do people fail in business, he was asked? The Asoju of Lagos told Daily Sun that many businesses collapse because of various reasons. Some of these reasons he pointed out are bad management, poor investment, putting the wrong people, in positions of authority as well as the business climate.
For the business environment, he alluded to the stock market collapse that crippled most businesses. In such a case, he said the owners of the business might not be blamed directly. 'We know that some people ruined the stock market but I am not going to mention names.' He rather prayed for the recovery of those affected and for the culprits to learn their lessons.
In business, he said, 'I have grown very steadily because from the beginning, I have been level-headed. I am not greedy. I try as much as possible to respect the laws of the country. I am not too ambitious. And today, I am satisfied with what God has made it possible for me to have. If you are not a bad man, you will not interact with a bad person. So far, I have avoided dealing with people that I don't see as honest. It is a wrong notion that you cannot succeed in business in Nigeria if you are not corrupt. 'What are the challenges he has faced in life and in business? He said 'I have had so many challenges in life but I have surmounted 95 per cent of them. The secret is my closeness to God.'
He said that although his parents were staunch Moslems, their liberal disposition helped him made his choice. 'At a time in life, I knew I was going to be a Catholic,' he said. So what are his plans as life after business? 'I cannot tell you now. Nobody knows; it is only God that will decide what I will do,' he noted. The harsh business environment in Nigeria these days have distorted the so much talked about good old days. These days, doing business in Nigeria successfully is more like carmel passing through the eye of a needle.
It is quite tough. Daily Sun sought the view of the Baba Suwa of Remoland on this and asked him to compare then and now.
'There is a marked difference between the way people do business now and what obtained in the past. It was much easier to do business successfully in this country in those days when we had a lot of industries and more trading companies. Many of these industries have packed up now and they have not been replaced. I could recall how busy the industrial estates in the old Western Region, especially in Ikeja, used to be.
'Anybody who went there for genuine business would have something tangible to do. I was vice-chairman to two of the companies. The first, Tinjin Nigeria Limited, was making suit materials, and the other, Nimetco Nigeria, produced fishing nets. Both of them operated in partnership CFAO, Tinjin Tetco of Japan and Itochu Nigeria Limited. The two companies had to pack up and sell their assets because of non-protection from government against finished products from India.
'They kept on producing at a loss for many years. And the Japanese do not like to see a red account for a long time. The assets of both companies were sold to other companies that were not producing the same thing. There are many other companies that have left under the same circumstances. I just hope our leaders will look into ways of protecting the remaining industries.'
On the area of protection, he said that the amount industrialists pay to import raw materials for their product is too high. 'Government should look into this. They should review the customs duty to encourage the growth of our industries. All this will make them to have reasonable cost level. If this is not done and similar products are allowed into this country as finished goods, such local industries cannot compete.'
Chief Okoya Thomas is a grass roots man. His high regards for cultural values, traditional institutions and philanthropic personality endears him to many. His numerous high rank chieftaincy titles are in recognition of his admirable qualities. A man who rightly believe in telling the truth at all times especially because of his closeness to God, he has charged the Sun on the need for excellence in the practice of journalism so that the truth can always prevail. This is not the first time he has insisted on this. Sometime ago in Lagos, he told an audience made up of human resources professionals and journalists that telling the truth can save the country from a lot of problems.
'Some of the ills that pervade our country is caused by the people in the media because, most of the time, they don't tell the story the way it is. I know that some media men are afraid of being locked up for telling the truth but, facing the fact, one of the ways to stop the rot in the system is by telling the home truth. So, I say to the media practitioners, 'tell the truth and be factual',' Okoya Thomas charged.