NO MORE COMMENTS ON ABUJA BOMBING UNTIL… – JONATHAN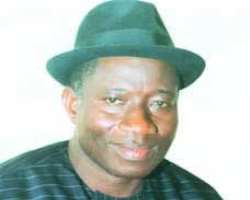 President Jonathan has said he would no longer comment on the twin bomb blasts of October 1 that left over a dozen people dead and several others injured until the security operatives unearth the culprits, as some people were using his comments to score cheap political points.
Explaining what he meant that the Movement for the Emancipation of the Niger Delta (MEND), were not involved in the blasts to the Northern Political Summit (G-20) during a solidarity visit to Aso Rock, Jonathan explained that he did not want people to hide under militant group to commit heinous crime against the nation. He vowed that those behind the dastard act would not go scot free.
The President, while thanking the group for its rule in calming the nerves of Nigerians said, 'I know the role you have been playing to explain things to people so that people will not play politics with things that are of serious national interest. Those who bombed Nigeria on that day are more demonic than Lucifer. I did not want to comment just as you advised because if you make comments, people tend to play politics with it. So, I have allowed the security agencies to continue with their work. At the end of the day, we will surely unearth those who are behind this.
'After the incident, I spoke on the following day when the ECOWAS parliament had a programme and when I visited the hospital where I said it was not MEND that committed the crime. That is the sin I have committed.
And I always explain to people that look , this car bombs first of all happened in Benin, Edo State. Somebody even died and another in Bayelsa State, nobody made an investigation but they said it was Niger Delta crisis. It was buried under MEND, under Niger Delta crisis. Again, another one in Port Harcourt, luckily no body died in the incident but it was buried. Not too long ago, Vanguard Newspaper was organizing a programme in Warri, another one happened when governors and senior citizens of this country were meeting, nobody ordered an investigation and it was also buried, nobody was arrested. Then, now in Abuja on the October 1, they said MEND again, and I said no, we cannot continue to bury this under Niger Delta crisis or MEND. That is the sin I have committed.
'I believe as a nation, whether you are a member of MEND or not is not the issue. What I am saying is that don't cover it up by using the name of Niger Delta or MEND. That is what I said. As at that time they had arrested some people some from Niger Delta some not from there. If we continue to do that, it will get to a time when it will travel far. From Benin to Port Harcourt and now to Abuja, it will also go to Maiduguri the next day. I believe that we must unearth those who are involved', he said.
The President reiterated his commitment to a free and fair elections stressing, 'we must make sure that we conduct free and fair elections. Without free and fair elections, we cannot say that we are democratic, in a democratic society people
must be allowed to select their leaders. So, if one or two people who have the resources can just appoint one of two people in the election, it is not a democracy. We must make sure that every vote of the people count.
Even for those of us who are interested in elections, if you are voted for by the people you will always have that at the back of your mind that you will go back to them. Untill we change that, I believe that with the crusade and commitment of all of us, every vote must count. In the next election, of course with a serving the Senator amongst you, they will work with INEC to ensure that the election timetable is out so that we will be prepared. But the votes must count'.
Earlier, the Senator Ibrahim Idah who spoke on behalf of the group nominated by the leader of the delegation and former Governor of Plateau State, Chief Solomon Lar, dismissed the call on President Jonathan to resign by the leader of the Northern Political Leaders Forum (NPLF), urging the President to continue to do his best to avoid the temptation of reacting to provocative statements from political opponents.
'To our compatriots in the Northern Political Leaders Forum, we urge for a return to the path of peaceful dialogue in the resolution of our national problems. The recent resort to threats and intimidating pronouncements can only generate further heat instead of the essential light for us to see the way forward. Given their tested maturity and noble character, Nigerians expect these leaders to rise above sectional politics and proceed to promote the blessings of national unity and the security of social justice', he said.
The group maintained that 'given the serious nature of the tragic event, we denounce, in the strongest term, attempts being made by some political leaders to politicize this matter. This is outrageous in the extreme. Matters of national security should not be politicized, for whatever political reasons'.
According to him, 'most Nigerians are also outraged by new language of threats and unwarranted intimidations and ultimatums coming from leaders of Northern Political Forum. We thought leaders should do their best to find lasting solutions to national problems instead of the deliberate attempts being made to provoke further confusion and crises'.
'This has become necessary because of certain provocative statements that have tended to escalate the already tense situation in our dear country. We appeal for calm! As patriotic citizens, we must conduct our public affairs on the high plane of dignity, discipline and decorum. Surely, it is far better to work together to move Nigeria away from the quicksand of ethnicity to the solid rock of national integration, based on justice, social harmony and national security'.
Senator Idah pointed out that 'most Nigerians would agree that the matter before us go far beyond the dictates of partisan politics' and 'therefore appeal to all Nigerians, and especially our colleagues in politics, that we must not politicize matters that threaten the very foundations of our nation', stressing that 'in times like this we have to move to higher realms of what is best for Nigeria. This is the hour for statesmen and women who are determine to build rather than destroy'.
The group however urged Federal authorities and our security Agencies to do their best by ensuring that a thorough and transparent investigation is carried to reveal all those involved in this dastardly act of terror, saying that 'the process of investigations must be kept purely professional, devoid of politics; and indeed we fell moved to appeal to all our leaders to resolve to observe a period of moratorium on press comments on these sensitive matters until the investigations are completed'.
Juliana Taiwo