OSAYEMI'S DRUG CASE SHOCKED ME – AMAO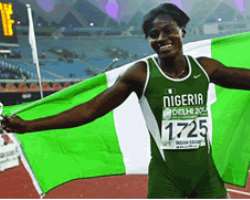 Osayemi: Not a laughing matter
Team Nigeria's lead anti doping officer, Dr akin Amao, has expressed shock at the failed dope test of Osayemi Oludamola. He said it was like a dream when he heard the news and hoped she would be cleared at the second test. Amao said Osayomi had been tested three times this year and more recently before she departed for the Commonwealth Games in India.
' I'm baffled, Amao started. I can't get words to express my displeasure at the development because I had tested her before we came for the Games'.
When asked if he had included the banned stimulant Methylexanemine in the routine test he conducted, Amao said he did general test for all the athletes which could have detected the substance but was quick to say that the stimulant in question could have entered into Osayomi's system through water and the inhaling of perfume.
' This substance methylexanemine could be detected through our routine test. There is nothing special about it but don't forget that it could also be contacted through drinking or the inhalation of perfumes.
We are hopeful that at the end of this Thursday when the anti doping agency must have come out with its finding on the second finding, we shall be exornorated'.
The Commonwealth federation had met and the result of osayomi's B sample will out Thursday
More than 900 doping tests have been conducted since the games opened Oct. 3, Fennell said, and so far Oludamola had returned the only positive.
Fennell said Oludamola had been notified of the adverse finding and had requested the testing of the 'B' sample.
A Federal Court hearing involving Fennell, lawyers and World Anti-Doping Agency observers later ruled that the provisional suspension would continue until the 'B' sample results are received, which would be Wednesday at the earliest in New Delhi, the CGF said in a statement.
'If the allegations are true, it's most unfortunate for us,' Nigeria's chef de , Elias Gora said. 'I'm disappointed and I'm sure people back home will also be disappointed, too.'
The World Anti-Doping Agency recently loosened the classification of Methylexanemine for next year to be on the 'specified stimulant' list, which covers drugs that are more susceptible to inadvertent use and can carry reduced penalties.
The women's 100 has led to a lot of confusion in New Delhi.
Sally Pearson, the Olympic hurdles silver medalist, thought she had won the 100 last week, but hours after crossing the line first she was disqualified for a previous false start.