POLICE STOP OGBEMUDIA, AKHIGBE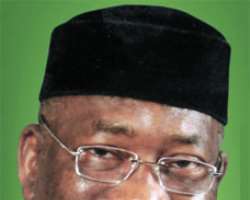 Akhigbe
The Police in Edo State over the weekend aborted a press conference organised by the Dr. Sam Ogbemudia/Admiral Mike Akhigbe faction of the Peoples Democratic Party (PDP in Benin City.
It was the second time within a week that policemen would disrupt a meeting of the faction at its secretariat located at 42 Siluko Road, Benin -City.
On October 2, the police had aborted the commissioning of the faction's secretariat. It said it was acting on order from above.
Acting state chairman of the faction, Mr. Sunny Uyigue, his executive members and journalists hurriedly left the venue following the arrival of the policemen to avert any clash. But in a statement made available to newsmen later, the factional acting state chairman, accused the Commissioner of Police, Mr. Kachi Udeoji of acting out a script prepared by an individual in the state.
'We wish to draw the attention of Mr. Kachi Udeoji, Commissioner of Police, Edo State and the individual he referred to as 'above' that in a democratic millieu as in Nigeria, we, like other Nigerians are entitled to the fundamental right to peaceful assembly and association as enshrined and guaranteed by Section 40 of the Constitution of the Federal Republic of Nigeria and Article 11 of the African Charter on Human and Peoples Rights.
'Accordingly, we hereby wish to say sorry to you journalists, who were brutalized in the line of duty on Saturday, October 2, 2010 at the Peoples Democratic Party Secretariat, 42 Siluko Road, Benin -City. Through you all, we also extend same to the Nigeria Union of Journalists, Edo State.'
He said once again that the Dr. Sam Ogbemudia/Admiral Okhai Akhigbe faction of the Edo PDP remains the authentic state executive of the party and called on the public to disregard the insinuation from what he called, 'the drowning faction of the party in the state', that Dr. S O Ogbemudia and members of his group are in the Action Congress of Nigeria (ACN).