NSE N1.35BN BONUSES OF CONTROVERSY RAISE INTEGRITY CONCERNS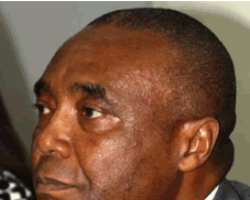 Ikazoboh
Sordid revelations of the forensic audit report by KPMG on the Nigerian Stock Exchange (NSE), which revealed that its council members shared about N1.35 billion (N1,350,800,000) as bonuses on productivity/surplus sharing', have raised concerns as to the propriety or otherwise, of the 'windfall'.
It also raised integrity question on Messrs Akintola Williams Deloitte, chartered accountants, auditors of the Nigerian Stock Exchange (NSE) for many years and their role in the entire saga.
A detailed statement from Securities and Exchange Commission (SEC) revealed that a total of N160.8 million was appropriated in 2006, N710 million in 2007 and N480 million in 2008 in the payments titled: 'Productivity and Surplus Sharing Paid to Council Members'.
The statement, signed by Lanre Oloyi, assistant director/head media, which was released last Thursday, showed that 25 council members of the Exchange shared N160.8 million in 2006, N710 million in 2007 and N480 million in 2008. Former Director General, Professor Ndi Okereke-Onyiuke, was said to have appropriated to herself the sum of N21.8 million in 2006, N75 million in 2007, and N50 million in 2008.
Immediate past President of the Council, Oba Otudeko, who was succeeded by Alhaji Aliko Dangote, received a total sum of N238 million in three years distributed thus: N28 million in 2006, N115 million in 2007, and N95 million in 2008. However, Alhaji Aliko Dangote, who was first vice president of the council, received only N40 million for year 2008. No money was appropriated to him in 2006 and 2007.
In view of the contentious nature of the payments, SEC has directed the NSE interim administrator, Mr. Emmanuel Ikhazoboh, to take reasonable steps to recover all shared 'bonuses' from the council members. 'For the sake of completion, it is worth mentioning that only Alhaji Dangote has so far returned the full N40 million, being his own share,' SEC said.
The report also showed that Alhaji Koguna got N12 million (2006) and N55 miilion (2007) while Raymond Obieri got N15 million (2006), N60 million (2007), and N35 million (2008). Other council members who shared in the N1.35 billion windfall in three years include Alhaji Umaru Mutallab, N40 million (2007); Erastus Akingbola, N50 million (2007) and N30 million (2008); Alhaji Olushekun, N10 million (2006), N40 million (2007), and N5 million (2008);
The question within the capital market community is whether the payments were made in line with capital market practice, and whether the accounting firm was right not to have reported the payments in its audit reports. For many, it ran contrary to the ethics of accounting profession and the Exchange's code of corporate governance and financial reporting system that the payments were not reported to the Federal Inland Revenue Service (FIRS).
Which is why market analysts are calling for a thorough investigation into the role of the external auditors in the payment. Analysts at high profile consultancy firm in Lagos, which pleaded anonymity, said the auditors' complicity in the sharing was not in doubt. According to them: 'The auditor's behaviour was not consistent with global best practices.'
As to whether it was in the culture of Exchanges to share surpluses and bonuses, Apostle Hayford Alile, former DG of the Exchange, said 'It depends on what they are supposed to do with the money. For instance, in 2006, there was a discussion on the demutualization of the Exchange. And most of the Council members did not understand what it was all about. So the sum of N2 million each was approved for them to travel to see most stock exchanges that have demutualised to go and educate themselves from them what it meant.
He added that there was no regulatory guideline when a company or Stock Exchange shares money, unless may be for reason of high productivity, stressing that he was not part of the Council. And therefore could not know the exact reason behind the sharing.
For the Chief Executive Officer and Registrar, Institute of Capital Market Registrars, Dr. David Ogogo, it was not out of place for Exchanges to share money depending on the internal policy. He was, however, quick to add that if the amount involved is so big, it becomes extra-ordinary. According to him, said if after a profitable year of operation, and the board said the management had done well, and should be further encouraged to perform better the following year, it is not out of place.
'But the magnitude of the money involved in this case is out of place. And again it has to be wondered whether they paid taxes on the money or not. One would have expected the auditors to raise an eyebrow whether or not the officers that benefited on those bonuses paid tax on those money,' Ogogo said. He further said 'If the Exchange needed money to embark on capital expenses and there was no money to do that and they went ahead to share money, that is totally wrong; it is unethical and against corporate governance practice.
But if they had enough money to do whatever they wanted to do, and the board and management decided that there was enough money to share as bonus, to further energise their staff for better performance, there was nothing wrong.' Be it as it were, if they are found to have contravened CAMA and ISA, we should look what the ISA says and what the SEC and NSE rules say. He called for a appropriate sanction against the auditors to serve as deterrent in future.
Following the revelations, observers say there are could be more untidy financial issues at the Exchange with regard to the forced retirement of the some Exchange staff by former Director General. The thinking is that it would inconceivable to believe that there was no inducement for those who were forced to retire before their time.
'You know it was reported that some of the Exchange staff were made to accept early retirement against their wish. The question is what was the understanding entered into for those senior management staff to accept to retire before their official retirement age? There could be more to this than meet the cursory observer,' said a market observer.