I.B.M. HARUNA TO JONATHAN: A SOLDIER DOESN'T BEAT A RETREAT AT THE WARFRONT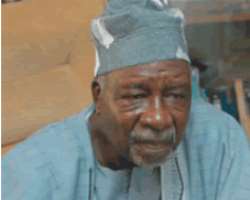 Haruna
Barely 48 hours after the Adamu Ciroma-led group called on President Goodluck Jonathan to resign over his utterances concerning the October 1 bomb explosions in Abuja, prominent northerners have continued to react to the call, insisting that Jonathan should not quit.
Instead, they were unanimous in their views that the President should get to the root of the matter, so as to unmask the culprits. This is even as one of them, Dr. Haruna Yerima, a former federal lawmaker and a chieftain of the Buhari-led Congress for Progressive Change, CPC, said that Jonathan's statement was an indication that he lacks the 'experience and maturity in governance, to deal with people of divergent interests and aspirations.'
They all spoke to Daily Sun at its instance, through telephone and SMS. Interestingly, only one, out of those who spoke is a known rabid supporter of the Jonathan's Presidency. The first to respond is General IBM Haruna (rtd), the Chairman of the Arewa Consultative Forum, ACF, who spoke in his personal capacity.
He said: 'it is not the function of a chief executive to resign in the face of adversity. If a soldier retreats from combat in a battlefield and does so willingly, he would be tried for cowardice. The President has powers to dig into and reveal the culprits and use due process of the law to resolve the matter of public threat to the generality of national security and prevent reoccurrence.'
But Dr. Yerima, a CPC chieftain and a doctor of political science, who though said the situation does not in any way call for Jonathan's resignation, noted that the President should apologise to the nation. Hear him: 'I feel it does not warrant his resignation, even though it seems the statement that emanated from him shows that he lacks the experience and maturity in governance to deal with people of divergent interests and aspirations. The mistake he made was bringing the PDP's zoning politics into a national calamity, which involves lives and death.
He shouldn't have done that. If you watched his October 1 broadcast, it was evident from the way he conducted himself that he lacks exposure and experience because he was acting like a primary school pupil, in a school debate. So what he needs to do is to apologise to the nation, sincerely from his heart, regretting sincerely the statement he made, and assuring Nigerians that the mistake will not repeat itself. And that further statement to be made by him in the future would be gauged by maturity, with the interest of the nation and the people in mind, and not by the idiosyncrasies within the PDP, zoning or no zoning.'
Another chieftain of the ACF, Abdulrahman Mohammed, who lost his position as the Secretary of the group's Political Committee, for openly canvassing support for Jonathan, argued that since no northern leader has ever resigned for inflicting pains on Nigerians, it would be foolhardy to call on Jonathan, who according to him, has not done anything, to resign.
'I will not support the call on Jonathan to resign because it appears we are stretching our political character to the extreme. And this is as a result of the desperation, which I had earlier warned against in one of my interviews with you. We cannot put on Jonathan what we have missed in the last 26 years or so. Our leaders have not resigned even when they have committed greater offences. Jonathan has not committed any offence.
'At any rate, the thing happened 300 metres from the Eagle Square, which is to show the efforts put in by our security men. We thank God that the effect did not extend to the square. Our problem is that we ask for the best, when we have acted the worse. Leaders who have looted this country dry, what has anybody done about it, planes have been crashing, people did not resign, our roads which have become death traps, kill people everyday, yet nobody has resigned, and nobody ever asked anybody to resign. I think those looking for power must exercise some restraints and go about their quest with a lot of caution and fear of God.
'It does not matter if someone was governor, when Jonathan was nothing, today by His Grace, he is the President, and so we cannot be speaking to him as if we are speaking to one houseboy. And to the government, efforts must be made to expedite action on the global satellite positioning arrangement between it and the US Government, so that as we prepare for 2011, those who are used to creating disorder in the country can be tracked. People in the past have not been punished for various offences, which is why they still do what they do.'
However, even though Major Abubakar Umar (rtd), a foremost northern critic, did not support the call on Jonathan to resign, he now sees him as an unreliable President. The President should not resign, but Nigerians need explanations as to the source of his information. I think the PDP primaries should decide his fate. But for now, he is proving to be an unreliable President.'