HE WILL SURELY SWIM ASHORE – STEPHEN LAWANI, DEPUTY GOV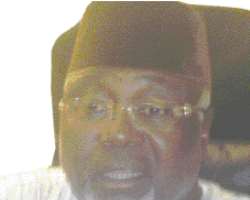 Can you evaluate the performance of this current govt in Benue State so far?
We have the case of a governor who came into office with a focus. He knew what he wanted to do. He didn't come to be advised by civil servants on what he should do. Before he even came into office he had a blueprint popularly known as 'our Benue, Our Future' which contains everything that he wants to do.
He has kept faith with that document. Nobody is pushing him. He knows exactly what he wants to do. In terms of achievement, I want to start with intangible ones. There are tangible and intangible achievements. One intangible achievement is the peace that the state has enjoyed so far. Before we came, there was what I will describe as private armies challenging the authority of state.
There were hoodlums here and there and there was crisis arising from chieftaincy struggles, land disputes and so on. All of them were accompanied by loss of lives. These have stopped and the state now enjoys peace. We came knowing that we do not belong to Niger Delta area where they have oil and gas but we have God-given soil and good climate, so our main activity in the state is agriculture.
We pride ourselves as the food basket of the nation. If you go to Katsina-ala, everyday you can count not less than eight trailers of yam being moved to various parts of the country. This is the largest yam producing state in Nigeria. We also have the largest yam producing area in the world. We are also noted for soya bean, rice and others. In fact, we have the largest rice processing plant here in Makurdi.
We don't have a plantain for rice but farmers all over the state are encouraged to plant rice. We have people from Singapore managing the rice mill and they are doing well. This is a naturally agricultural state and government has a deliberate policy of supporting farmers through provision of fertilizer. For instance this year, we buy fertilizer at N5,500 (five thousand five hundred naira) per bag and we give to the farmers at N2000 (two thousand naira) because they are the largest employer of labour in the state.
The next area is education. This state has three universities. No other state in the entire 19 northern states has such number of institutions. After agriculture, the next big industry in the state is education. We also have projects in health. But the most fundamental and most important is infrastructure, mostly roads. If you have plenty of farm produce but you cannot bring them out, then they are useless. Because of this the Suswam administration has spent so much money on provision of rural roads and, of course, township roads here in Makurdi, Oturkpo, Gboko, Katsina-ala.
We are now building the largest water works after Gombe, which has a projection to last for the next 70 years no matter how the population in Makurdi grows. Similar but smaller water works are also being built in Oturkpo, Gboko and Katsina-ala.
In spite of these, the allegation is that people are not being carried along, which is why there seems to be many opponents?
That is to be expected and it is not unique to Benue State. Let me tell you what may be peculiar to us. Before the advent of this administration, it was not unusual for large sums of money to be distributed to individuals and groups who come to government house to say they want to do one thing or the other.
Most of them of course are telling lies but they go happily because they have collected money. But Governor Suswam has decided that rather than distribute money to assuage people, the money should be used in development of infrastructure. If you give money to people you see everyday, what of the people you do not see, and those who will not come. That is why for instance abroad, if you go to a restaurant and give tip to a waiter the money is not taken by the waiter alone.
They put it in a common pool and share it in such a way that it gets to the cooks in the kitchen and the chefs who have no opportunity of seeing these who have come to eat in the restaurants. If you give money to only those who come to government house what about the other people.
But these elites are said to be 'powerful' and can create problem for the governor in the next election?
I don't think so. Yes we agree that the sharing of money in the previous eight years will attract loyalty for the man who was doing the sharing. There may be problems between the current governor and the former one, it is already in the public domain. Therefore it is expected that the supporters of the former governor will try to make trouble for Suswam. But every right thinking person knows that it is better to deploy the resources for the development of the state and the future of our children.
It is a contrast to this other people who believe in 'chop chop' for today. So it is up to the people to decide which is better. Let me say clearly that even if you localize it, Governor Suswam will have no problem in 2011. In practical terms there are three senatorial zones in the state. The governor comes from one, I come from one and the former governor comes from the other one. So if you go by simple majority, the result is obvious. So Suswam has no problem in 2011. I can tell you that with every confidence.
But the PDP has said that there will not be any automatic ticket for anybody in 2011, does that not affect the governor?
Nobody has come out yet. The office of a governor is a serious office. It is not something you can come two weeks to the. You must come out now. The governor has done very well, yes we clap for him yes, but that does not stop any other person who wants to contest from coming out. I support what the party is saying. This is democracy. Anybody who feels he can do better than the governor is free to come out. That's what the party means. But am telling you nobody is coming out because they have seen what the governor has done and they know they can't match it.
What about the precedent that second coming for governors in Benue State has always been a difficult task. Do you think this governor will survive it?
Excuse me. When you say governor, remember that I am part of this government. I am telling you that we have no problem. There's no party other than PDP here. You have been here for some days, tell me have you heard of any other party?
Yes, I have heard of ANPP
They have just dissolved their executive. They are now looking for a chairman. There's no doubt that they were strong in the past. I was a member of that party when it was APP, a foundation member for that matter. I am a party man and I know when a party is dead. I tell you, ANPP is dead in Benue. All those who left PDP for AC and ANPP are all back to PDP. The former Senate President, Iyorchia Ayu who went to AC, has returned. Even in the Benue House of Assembly the members who are not PDP have come back to the party.
I agree with you that the second coming of every government is usually difficult. When a government is coming for the first time, people welcome it with open hands but after four years some may be happy, some may not be happy. There may be people who did not get political appointment as expected, they won't be happy.
What is responsible for the peace that has existed between the governor and his deputy in this state.
The governor invited me to run with him as deputy governor, not as co-governor.
When I was coming here I knew I was coming as deputy governor and you know that in some places a commissioner can be more powerful than a deputy governor. We are what we are based on our relationship with the governor. It took me three days to decide to come and join this government and I was clear in my mind that I knew what I was coming for. That's why we have a wonderful relationship. He is the governor, there are not two governors in the state. When he is not around I stand in for him. When he returns I take my position. More importantly he is not afraid that I will take over the job. He knows very well that I am not after the job.
What are the chances of PDP in Benue State?
If an election is held today, I have no doubt that PDP will win with nothing less that 75%.