IN BENUE, SUSWAM SWIMS AGAINST THE TIDE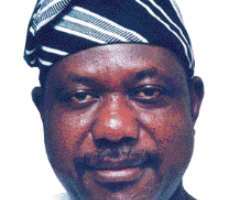 The story is rife in Benue of a former governor resident in Abuja who slept off in the car on his way from the federal capital. He woke up just as the driver entered Makurdi and beheld smooth roads, culverts, zebra crossings and all the trappings of a typical road in Abuja.
He was furious and screamed at the driver ' I told you to take me to Makurdi, what are you still doing in Abuja?' The driver politely told his boss they had arrived Markudi
The foregoing, a story some would swear is true, has become what many a political opponent of Senator George Akume deploy in describing the state capital in the space between Akume's exit as governor in 2007 and now. The praise noise may ring loud in the streets, but Suswam's political enemies are blind to those changes and have intensified pressure to push the youthful governor out of Government House.
But the lawyer is aware of the power game. He is throwing everything into the fray. He has cornered the Peoples Democratic Party machinery and entrenched loyalists in strategic positions. Findings in Benue show that the governor has fiercely resisted the tendency for former leaders to institute themselves as godfathers. He has effectively swung the reins of power to favour the people.
There are, however, grumbles. His opponents say Suswam has developed the state but impoverished the people. They admit that he has turned the state into a huge construction site but that the contracts have been largely awarded to outsiders, thus causing capital flight. Shima Ayati, a former aide to Akume, who ran for the governorship on the platform of Action Congress in 2007, says no indigene is doing any contract worth any mouth-watering figure.
'The people have been impoverished. Suswam has not empowered any person. There is serious capital flight in the state,' he posits. Such assessments are the natural way to go for opponents, especially those like Ayati, possibly still aggrieved at his loss of the position in 2007. Suswam, however, says his insistence on reputable contractors is the reason most of the contracts have been completed and delivered. He was avoiding pitfalls of the past where people took contracts, collected mobilization and disappeared into thin air.
He would rather leave legacies by way of putting things on the ground than make emergency millionaires whose new found wealth find no bearing in hard work or service delivery. They emerge from the ashes of unexecuted contracts and dashed hopes of improved infrastructure. Everything is thrown into political battles, which is why Suswam's opponents would stand on such seemingly sentimental ground to launch their attacks.
Friend turned enemy
Senator Geroge Akume is the uofficial leader of opposition in the state. It is not strange given the antecedents in other states where godfathers are at daggers drawn with their godsons. If Akume is fighting Suswam, a man he helped bring into office, that would join the trend of developments in states like Imo, Cross River, Nasarawa, Enugu, Kebbi and a few other states.
No one disagrees that Suswam's ascendancy, especially into the Government House has the strong imprint of Akume. In fact an All Nigeria Peoples Party (ANPP) stalwart in the state, Chief Clement Uhondo, insists that Akume 'rigged' Suswam into office. It may be a rather strong way to describe Akume's role but it is also a clear expression of the ex-Governor's push to pave the way for Akume.
Things moved well initially between the incumbent and his predecessor, but later turned awry. Gradually, their relationship became cat and mouse. As things stand in Benue, the Akume opposition is certainly the strongest even if the governor has deployed all in his arsenal, largely flowing from the incumbency factor, to crush that raring head of opposition.
The hammer
Clearly, Suswam is not watching idly as his opponents inflict injuries on a political career, which has moved swiftly from rough days as a legal practitioner in Lagos through Abuja, to the lofty pedestal of mounting the saddle as Governor of Benue, a state created when he was barely 12. Now 46, and presiding over the affairs of his home state, Suswam would not stand by and watch people with selfish intentions dislodge him from office. He has moved fast, allowing the incumbency hammer to descend on obstinate heads.
First, the local council boss in Gboko, widely known to be a staunch Akume protégé, was on an indefinite suspension when Sunday Sun visited recently. Shimar Ayati was emphatic that the governor was at the root of that suspension, insisting that it was a move vicariously aimed at Akume. He says that was the most strident notice that all was not well between the Governor and his predecessor. The belief within the governor's camp is that the council boss would sway and fall in line with the imminence of 2011 polls.
The next strong hammer is literally hovering over Senator Akume whose parley with opposition elements has ceased to be clandestine. He seems to have vowed to stop Suswam. But that would be if Suswam allows him to survive. There are strong indications that the governor is also plotting Akume's ouster from the upper legislative chamber. Suswam is propping another younger element to pick the party ticket and dislodge Akume from the senate where he wishes to return for a second tenure.
'Both parties are plotting each other's downfall,'' said a journalist in the state.
At many public functions, the former governor was said to have openly berated his successor in manners that suggested to the electorate that he did not want him back in office. The party machinery in Benue is held very well by Suswam and the tendency to use it against Akume is rather strong given the open confrontation that has become the lot of both men.
Dr Emmanuel Agbo, an engineer, who heads Peoples Democratic Party in the state told this reporter that Akume was engaged in serious anti-party activity and has thus incurred the wrath of the members.
'We have no power to suspend him, but we can recommend to the National Executive to do so and we have already made that recommendation,' he adds.
He said the party had enough evidence to nail Akume, which is why the distinguished senator has shied away, under varied pretenses, to respond to the invitation of the state executive to reply to the accusations leveled against him.
The senator was alleged to have openly canvassed an ouster of the current government of the state in a reception held for a prominent indigene, who was elevated to the silk class of Senior Advocate of Nigeria. At the thanksgiving which later turned into a rally, in accordance to the political culture of the state, Akume allegedly said that long faces of hunger had become the lot of Benue indigenes since the inception of Suswam's administration.
Dr Emmanuel Agbo says the party had been fair in dealing with the former governor, revealing that the State Executive Working Committee invited Akume thrice to defend the allegations but he avoided the invitations, prompting the exco to take the action it took, namely recommending Akume's suspension since the party constitution confines disciplinary matters concerning such caliber of members to the national executive. Akume on the other hand says no notice reached him, insisting that the state executive wanted to shave his head in his absence. He therefore insists that he remains a bona fide member of Benue PDP and refutes any purported suspension. He remains in the party and is fighting from within.
Second term hurdle
The political battle Suswam is currently engaged in has historical antecedents. He would be walking a tight rope given that second term has remained an obstacle for democratically elected governors in the state. In the second republic it was battle royale between Aper Aku and Paul Unongo on the platform of National Party of Nigeria (NPN) and Nigerian Peoples Party (NPP) respectively. In 1979, Aper Aku emerged winner. It was a slim win that still needed validation from the courts where Unongo had gone to ask for nullification of the polls.
In 1983, both men squared up again. It would have been taken for granted that after four years in office and a fairly good performance, Aku would have sailed through with little trouble. It was not so, both men ran neck and neck, resorting again to the courts before the military struck on December 31, 1983 and flushed out that government.
Deputy Governor Stephen Lawani explains why second tenure seems a hard nut to crack.
'When a government is coming in, people welcome it with open arms,' he told Sunday Sun, 'but after four years, some people may be aggrieved. It is natural. You cannot possibly please everybody. There is no problem with that but I can tell you that no party can dislodge PDP in the state. Besides, Governor Suswam has performed so well that it would even be foolhardy for anyone to present himself to run against him.'
Lawani is very confident that Suswam will scale the so-called second term hurdle and emerge victorious.
Enemies become friends
Since its creation on February 3, 1976, Benue is not known for turmoil, its political elites are not cantankerous. They would fight and close ranks as quickly as expediency demanded. Suswam has had to contend with that culture, too. Shortly after his emergence in 2007, the All Nigeria Peoples Party candidate, Professor Daniel Saror, a former vice chancellor of Ahmadu Bello University, ran to the court, claiming that he had incontrovertible evidence to back his claim to victory in that election. Indeed Chief Clement Uhondo, a former scribe of the party in Benue insists that Saror won the election but for Akume's intervention.
As the courts proceeded with the trial, something happened. Professor Saror withdrew the petition. Uhondo says the decision has remained inexplicable, insisting that the party took no such decision. It was Saror's sole decision.
Insiders say it was a clear indication that some political elite in the state know when to sheathe their sword for peace to reign. Today Saror has returned to the trenches. He has assumed leadership of the ANPP, evidently the only semblance of opposition in the state. Indications are that when push comes to shove, the professor may yet again sheathe his sword.
At the time of the battle with the ANPP, one of the arrowheads defending the state government was Chief Godwin Dabo, a gadfly of sorts. He stood by Suswam against the ANPP but later turned round and lambasted the government, even threatening to work against Suswam. He has once again become friends with the government and is willing to help in the bringing Suswam's second term agenda to fruition, as much as lies within his powers. Such political heavyweights as Chief Mike Mku, now seeking to go to the senate, are all rallying for Suswam.
Perhaps the biggest opposition pillar now singing a new tune is Chief Paul Unongo. He is one of the oldest and most influential figures in the state. He was the pillar of ANPP. His political history dates back to the second republic, when he squared up against Aper Aku at the gubernatorial contest. Under his leadership, the ANPP also gave erstwhile Governor Akume a tough battle. Unongo has jumped ship. He has been lured into the Peoples Democratic Party. He is a major victory for the Suswam administration, a clear sign that the regime is also fighting back by luring influential opposition people into its camp.
Clearly, the opposition in Benue has been decimated. But Shimar Ayati of the Action Congress of Nigeria (CAN) says all hope is not lost. In a telephone interview, he told Sunday Sun about a move he passionately described as an 'impending rainbow coalition against Suswam.' He says the opposition parties will rally around Jonathan Biam, a retired civil servant who hails from Zaki Biam, being propped up to run against the incumbent.
'There will be a rainbow coalition in Benue. We shall rally round him to get Suswam out of power. He is credible. He has clout and is a suitable material for governorship of Benue. The people will accept him. We shall rally round him and get Suswam out of Government House,' Ayati said.
Apparently, no opposition party has the muscle to stand against the Peoples Democratic Party alone. Jonathan Biam who was out of town when this reporter visited is, perhaps, the likely lone candidate to run against Suswam. Indications are that except anything drastic happens, the race still has the tinge of a no contest if the strength of the opposition is anything to go by. It was learnt that the ANPP was yet shopping for a chairman, an indication that the continued luring of its members into the ruling party may have decimated the structures.
Engineer Baba Agan, a member of Peoples Redemption Party for 31 years and state chairman of Conference of Nigerian Political parties (CNPP), says Suswam has won the heart of the people. He confesses that in three decades of political activism and consistency as a social critic in Benue, he has not seen a more pragmatic government than Suswam's.
'Many of our children have not seen good asphalted roads in their lifetime. But Suswam has made it possible. I have lived here all these years and I can tell you that Suswam has done so well that I have even shelved my ambition to become governor, a battle I have been fighting for over 30 years. If you see somebody doing what you wanted to do, the best thing to do is to support him. I am not in PDP and I have no intention to join. I remain a steadfast member of PRP but all I know is that Suswam is doing well,' Agan told this newspaper.
When told that Jonathan Biam was warming up to join the race on the ANPP platform, Agan dismissed the bid as one too weak to uproot the incumbent.
However, political danger still lurks in the corner. The coast seems clear for Suswam from the outside, but internally, in his own party, no one knows what surprise Senator George Akume and his legion of supporters may spring at the last minute. The battle line is drawn, and the die is cast.