NORTH'S NOT READY FOR POWER – SENATOR ADEYEMI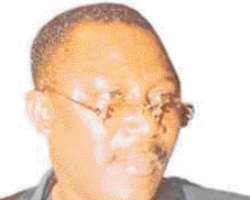 Chairman, Senate Committee on Federal Character and Inter-Governmental Affairs, Smart Adeyemi, has poured cold water on the clamour that the 2011 presidential ticket of the Peoples Democratic Party (PDP) should be reserved for politicians of Northern extraction in line with an agreement reached by stakeholders of the party in 1998.
The law maker who represents Kogi West district at the upper chamber of the National Assembly, insists that the number of aspirants gunning for the PDP presidential ticket is a clear indication that the North is not serious over the agitation to reclaim the plum position.
Perhaps to give credence to Adeyemi's assertion, it was leant that effort by northern leaders to prune the aspirants to a manageable number has not succeeded as none of the aspirants so far had agreed to step down.
The development led to the constitution of a 17-man search team raised by the Northern Political Leaders Forum.
The search team included frontline politicians like governors of Jigawa and Gombe states, Sule Lamido and Danjuma Goje respectively, former PDP National Chairman, Audu Ogbeh, ex-Senate President Iyorchia Ayu, ex-Minister of Finance, Mallam Adamu Ciroma, and Mr. Ricky Tarfa (SAN). But Adeyemi insists that until the north puts its house in order and presents people with credibility, and not rely on recycled politicians, no one would take them serious. Excerpts…
How do you see the agitation of the North for the retention of power in that region for the next four years?
It is correct and I am not saying that they don't have the right to ask that the presidency must remain in the north for the next four years.
How do you then justify the entry of President Goodluck Jonathan in the race?
Goodluck Jonathan has the right to contest too like every Nigerian. There is no constitutional provision for power rotation in the constitution of the country. It is an arrangement within the PDP. It is the doctrine of necessity that is making Goodluck Jonathan to contest as President for another four years. He is on the seat as President and the constitution allows him to run. I don't think our people in the North are serious about this.
I have asked our brothers in the north that is it true that they are committed to retaining the seat? Is IBB really committed on behalf of the North? Is Abubakar Atiku really committed on behalf of the North? Is Muhammadu Buhari really committed on behalf of the North? If they are, I think they should have sat down and looked for someone much younger, dynamic and fresh and then line up behind him and put their resources behind the persons, and people will give them the support. But they never did that.
'Tell me how a president can emerge from the north when all the heavyweights who are supposed to be godfathers are coming out. If IBB really wants to assist the north, he should not have been thinking of contesting for the election. The same applies to Buhari and Atiku; they should have looked for a younger element from the North and then thrown their weights behind him. I have always said that they should step down and back a younger person.
You don't see the North being serious over the issue of retaining power then?
The present crop of leaders we have in the North have not shown they are serious about retaining the presidency. If they were serious, the heavyweights would not have come out for battle. The three people who are in the race should not have joined the race if the North is serious about it.
Some people insist that the agitation for power shift in Kogi politics is a non-issue and that the best material should be allowed to rule because it is an evil agenda. But some people contend that the governorship of the state must shift to the Okun speaking part of the state. How do you see this agitation?
If there was good governance, there wont be need for that agitation for power shift in the first place. Good governance in terms of a government that appreciates the needs and the aspirations of the people of each of the zones that make up the state. If you have a government that is piloted by statesmen, no one will be talking of power shift.
I always make reference to what was obtained in the first republic when sir Abubakar Tafawa Balewa was the Premier of Northern region. The people from Kwara and Kogi who are Yorubas didn't even remember that they are Yorubas because the man gave them a sense of belonging. The social amenities were provided for them; but when there is obvious discrimination like we have in Kogi, then you will have this type of agitation. Even as a father with four children and you are treating two very well, the two others are likely to ask you if truly they are your children. It is when you discriminate against a people that they start asking questions and they will be saying 'do we really belong here?'
I have always believed that there is something fundamentally wrong with the type of structure we run in this country. The federal system of government we are running here is faulty and I will say we are running a mixture of federal and unitary style of government. That explains the confusion we have in our system. In a truly federal system, you don't force people to be together. It is language, culture and tradition that can be used to bind people together and make them work together.
But in Kogi, it is different; it is a confused environment where the people cannot articulate their views. I think there is something wrong with the state and until we address that, we'll continue to have problems.
On the issue of power shift, it is a result of the absence of people who can appreciate the diversities in the state and consciously play them down. We have people who are blowing up the differences and then make people to feel they don't belong here.
In Kogi, projects are cited in one Senatorial district and every appointment is going to just one section and everything good is going to one section, then the other people left out will ask question whether they're needed here. The fighting in the Middle East is because of this type of oppression. When you oppress people for too long and you keep them quiet, it breeds anger. It is this anger that we are trying to avert.
Are you saying that the people of Kogi West are marginalized in terms of appointments and infrastructure?
Are you in doubt? Go and see for yourself and you will appreciate what I am saying. Let me give you a statistics. When the state was created, Kogi West had almost twice the workforce of Kogi East in the state civil service. The problem of the Igala people in Kogi East was that they were coming from Benue where they have also suffered long period of oppression.
If you go to the West and East you, will see a sharp difference in favour of the West, not because those things you see came from the present Kogi government but from what they inherited from Kwara. In Kwara state, there was some level of fairness and projects were cited not based on myopic considerations but on merit and needs of the people.
I am the chairman of the Senate committee of Federal Character and inter-governmental affairs, and I know the workforce of each state and federal ministries and I know that more than two-third of Kogi quota at the federal level were taken over by Kogi East simply because they have people in office at the state level who pushe their case.
This is also the same with state appointments. Apart from the time of Obasanjo when he insisted on balancing these things by picking from all the senatorial districts, everything has been going to the East. In this time of governor Ibrahim Idris, everything has gone to the East and you cannot be slapping my people and I will see it and then expect me to keep quiet.
You can't be matching my people on the head and ask me to keep quiet. I am aware that some people in Kogi West are in support of what is happening but you will agree with me that not all of us can sleep and face the same place. I can't be clapping for the person who is oppressing us. All of us cannot be supporting Ibrahim Idris in this oppression he is giving our people.
By calling and training, I will always fight for the oppressed; It is on record that I was a great agitator for the people of Niger Delta, so it is not that this has to do with the people I represent. But over 12 people from Kogi West are aspiring to take over from the outgoing governor and they are all ready to go to the primaries without any compromise.
I agree that is a problem. But the beauty of democracy is that everyone can aspire but when the time comes, we will tell him where he actually belongs. We will still x-ray most of those that are on the field now.
People make the mistake of thinking that holding national position is being influential with their people. It is not so. They are opportunists but we want those that are committed to Kogi state and not opportunists.
Are you saying they will still be pruned to a manageable number?
The leaders of the people of Kogi West are meeting and they will come out with those that will represent us. Having a governor from the West is not the main issue but the issue of having someone who will deliver and not someone who will go there and disgrace us, we will want someone who will get to office and perform.
What happened to a recent attempt to zero in on a particular aspirant?
I think it was too early. There is need for us to allow people to market themselves. Let the aspirants talk to us and I think we are about to decide on who will be representing us. The agitation is not because we feel we should be governor of Kogi in 2011 but because we realised that in time past, we have allowed people who are less qualified from other districts to rule us and cause problem for the state. It is basically not about Kogi West, it is for the benefit of the whole state; we realised that we have people who are eminently qualified, people who appreciate the problems of the state and had done research on how to solve the problems.
In Kogi West, we have more infrastructure like water and electricity that we got while we were in Kwara than what you will see in Kogi East. The point I am making is that though Kogi East has had a large share of ruling the state, it has not impacted on the lives of their people back home. We want good governance and I can tell you, it transcends ethnicity.
The agitation is not about saying we want to rule as Okun people but our own way of saying Kogi state has had far too many people who are not doing anything in office, and we have better people who can do it to the betterment of all. We are saying that we have had six to seven governors from one district and the state has not moved forward and we are saying we have people who can do it better.
But the Igalas too are on the field for the same job and the man that is going is an Igala man; how do you see that?
The issue of power rotation is not a constitutional matter but we will reason together and let them see why they are not the one for it. It is not a bad idea that they are in the race.
Why is it difficult for politicians in Kogi central and Kogi west to work together and get the position?
Martin Luther said that when minorities fail to come together, they would end up in penury and may likely perish. I think a time will come and they will realise the need for them to bury their differences and work together.
It is in the interest of the people of Kogi East to support someone from West to be governor because now they cannot agitate against their son on the seat, but with a Kogi West man on the seat, they can agitate that water and electricity be installed in their area. They are presently suffering and smiling and that is why they should allow power shift to West.
Are you sure your position will not bring you into conflict with some powers that be in Kogi?
In Nigeria's politics, if you are not a yes-man, the powers that be won't like you. I am sure that if there is someone my governor will not like to be re-elected in 2011, it would be me. But I am fighting for those that voted for me. I am doing the job that my people gave me and I have not betrayed my people; I will be a friend of the governor if I betray my people because of the governor.
I am not a friend of the governor because I don't appreciate the mis-governance going on in Kogi. Have you been to Lokoja before? Does that place strike you as a state capital? There is no industry there and yet the governor had traveled for over 200 times and he is yet to attract any investor to the state. I cannot clap for a person that is not doing well even if I am a member of the PDP. I cannot say that I will be clapping for mis-governance because I want a second term. I better not have a second term than to do things that my people will stone me for.