ABUJA BOMB BLASTS: WHY I WAS QUIZZED – DOKPESI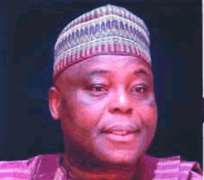 Dokpesi
Chairman of Daar Communications and Director-General, Ibrahim Badamasi Babangida Campaign Organisation, Chief Raymond Dokpesi, yesterday, opened up on his experience with security operatives over penultimate Friday bomb blasts in Abuja.
Dokpesi had been guest of the State Security Service (SS) as his name had allegedly been mentioned in connection with the incident. One of the suspects being held over the tragic incident, Edmund Ebiware, had allegedly exchanged text messages with the Director-General of the IBB campaign organization.
But addressing journalists yesterday at his residence in Abuja, Dokpesi denied complicity in the incident, which he described as a national tragedy. He denied having any contact with the purported leader of the Movement for the Emancipation of Niger Delta (MEND), Henry Okah, or Edmund Ebiware, who had been fingered as one of the perpetrators of the attack.
Shedding light on the N4 million, which he allegedly gave to Ebiware and was traced to a text message, Dokpesi told newsmen that he disclosed to the security operatives that the money was meant for the IBB campaign office in Bayelsa and was disbursed to the campaign coordinator, Hon Alaowei Opukeme.
'I am still at a loss on why I was invited because I have nothing to do with the bomb blasts. I was never present at the bomb blast site. I never funded any groups or persons that were involved in the bomb blast. I have never associated with MEND leader, Mr. Henry Okah. I have never corresponded with him or communicated with him either directly or through any third party. Nor has my principal, General Ibrahim Babangida, in any way associated or collaborated with anybody.
'Let me simply state the fact that on Monday, October 4, I received a telephone call on my way from Jigawa asking me to report at the SSS headquarters at 10am. And I asked for the name of the person that was calling and he gave me his name that he is an official of the SSS and that I should come at 10am.
'I was at the SSS headquarters diligently at that 10am on Monday, October 4. And when I came in, I was shown an handset where somebody was asking whether they had collected N4million from Dokpesi and whether I know anything about this text message.
'I said to start with, I am not owner of the handset. The message was not sent to me and I don't even know who and who exchanged this text message. 'I was told that it is one Ebiware from Bayelsa State and I said I haven't been in any financial contact or any financial arrangement with anybody that is called Ebiware from Bayelsa State. However, I have appointed in Bayelsa Honourable Alaowei Opukeme as IBB 2011 State Coordinator.
'With Opukeme I have a relationship and I released N4million to him to be able to secure an office in Bayelsa and that is to the extent to which I have had a contact with him,' Dokpesi said.
Speaking further, the media mogul said: 'I am not a terrorist. I never ever funded or supported anybody to blow up Eagle Square. The picture that is being painted internationally that I am a sponsor or a terrorist or that I partook in this thing is absolutely false and it is just in the imagination of those that are in government who just want to link me to that blast.' Advancing the allegation of political persecution, Dokpesi disclosed that he was being maligned because he refused to support President Goodlook Jonathan 2011 presidential ambition and had turned down the overtures to be part of the campaign team of the incumbent President.
The IBB campaign organization DG submitted that his position was informed by the agreement he had with certain individuals, who he earlier collaborated with to ensure that Goodluck Jonathan emerged as acting President.
'Let me say that officials and persons very close to President Jonathan discussed it with me, and President Jonathan himself during one of our discussions mentioned that he was happy that his officials reported to him. I didn't turn it down. It was the party, the approach and the project on ground.
'You see, it has to be based on justice and fairness. It is not a matter of saying this is what is good for my people and the other people should swallow shit or they can go to hell; it is not a matter of saying that, after all we are the incumbent and we can use the power of incumbency. That is not what was intended and this is part of the thing, and the style that I disagreed with and I explained to them very politely. I believe in the unity of the country. I strongly believe that it is right and appropriate that what is due to John should be given to John.'
Making a startling revelation on how the late President Umaru Yar'Adua emerged as the PDP presidential candidate for the 2007 election, Dokpesi disclosed that former President Olusegun Obasanjo prevailed on former Rivers State Governor, Dr Peter Odili, to step down in total regard to the PDP zoning formula, as the latter's ambition was a threat to the stability of the party and the entire nation. 'My point of departure with Goodluck Jonathan as it were is the fact there is a zoning policy in the party and that zoning policy envisages that we will have eight years of presidency for the North, eight years of presidency for the South. The South has spent its own eight years.
'In 2006, I was the Director-General of Dr Peter Odili's campaign and it was very succinctly stated by the then President, Chief Olusegun Obasanjo, by the chairman of the party at that time, the chairman of Board of Trustees, the secretary of the party at that time, and by the leadership of the party that in 2006 it was not possible for Odili to go ahead into the convention of the party at the Eagle Square and win it simply because it would disrupt and cause instability in the country. And that there was an agreement in 2002, which had already made it necessary that after eight years of the Obasanjo administration, the presidency will go back to the North and therefore the best that Odili could be offered was vice-president.
'The acceptance speech of the late President Umaru Yar'Adua on the 16th of December 2006 was supposed to carry the name of Peter Odili as his running mate. It was only on the floor of the Eagle Square that Odili was said to be too strong to be Yar'Adua's running mate.'
Disclaimer:

"The views/contents expressed in this article are the sole responsibility of

NBF News

and do not necessarily reflect those of The Nigerian Voice. The Nigerian Voice will not be responsible or liable for any inaccurate or incorrect statements contained in this article."