WHAT A FLOP!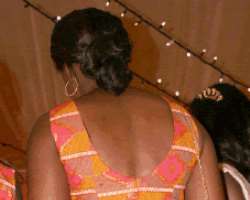 Evil slit
Madam, what happened to the rest of the aso ebi? In fact, this is the longest dress we've seen so far. Haba! The length is all wrong my dear and we wonder how you were able to sit in that dress. What actually got my jury angry was that you tried to tamper with evidence and we won't take that lightly. We were so afraid that an accident might happen and that slit would just go further up. But for the timely intervention of the court bailiff, things could have been different.
For making our lives miserable,
you have been fined
N1.5million.
Bush crime
Haven't you heard about strapless solutions? We are so disappointed that at this time and age, you could still be found committing bra crime which is extremely provocative especially when your straps are busy singing dancing in the sun to every Tompolo, Asari and Boyloaf.
Pay a fine of N500, 000.




Who's impressed?
Girlfriend, you can't define style any longer by how much boobs you can show-off. This is so tacky and wacky and my male jury couldn't take their eyes off the Zuma and Olumo rocks on your chest. As a matter of fact, this is too distractingly ugly and you have been fined N1million.


Hot mess
Did your girls complain of suffocation or squishing? That only explains why you have decided to let them loose. My dear, the neckline is a hot mess. For flagrantly flouting the fashion code, you're to remain in our custody until you show your tax clearance certificate and breast permit. .


Eagle Square parade
When you were asked during cross-examination, if this is really hot and sexy, you couldn't answer the prosecuting counsel. But you knew so well that those tits shouldn't be flaunted at the Eagle Square and are better kept at the museum. Madam, cover-up please and for your punishment you would be transferred to Mallam Factori farms in Borno state and you're ordered to make twenty ridges every morning for the next 6 months.


Big Flop
Big sis, this is a big flop. Your bra is screaming and that is a major disaster. How dare you wear a red transparent dress with white bra? Haba! This is highly unacceptable and in order to pacify this court , you're to appear at the next hearing with other exhibits, but before then, pay N750, 000 fine.