James Ibori rewards Attorney with Ikoyi Mansion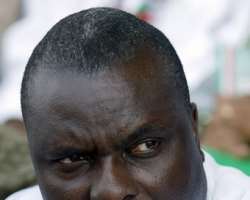 James Ibori
Fugitive James Ibori has rewarded one of his cronies and attorney, Chiedu Ebie, with one of his huge properties in Ikoyi , Lagos.
This delta born attorney, implicated in several money laundering investigations in London, is a shareholder in Bronwen Energy Trading Company, the firm that posted the $400,000 bail for ibori's mistress, Udoamaka Onuigbo Okoronkwo, shortly after her arrest and incarceration in London. That bail deal was brokered by another of Ibori's associates, Patrick Denyefa Ndiomu.
Ebie, a criminal attorney, has severally acted as front and yeoman for Ibori in the registration of dodgy companies used by the ex governor to move funds from Delta State via questionable contracts.
Pointblanknews.com also learnt that Ebie is also one of the attorneys on the Ibori team fighting hard to ensure he is not extradited to the United Kingdom, and is granted assylum. But while others make trips to Dubai, the United Arab Emirate (UAE), Ebie is holed up in Lagos researching and forwarding vital documents relevant to the case.
It was also learnt that the property is located at 18A Adeyemi Lawson Road, off McPherson Road, Ikoyi, Lagos. The house is one of the properties Ibori bought in 2000.
Ebie who worked closely with Ibori's former personal assistant, Bimpe Pogoson, closed several of the property deals by the fugitive ex Governor, in South Africa and Florida in the United States.
Ebie was a partner at Odiawa, Ebie, and Company, a law chamber, but fell out with his partners over shady deals as Ibori's frontman, and non-disclosure of income.
Pointblanknews.com also gathered that after the Odiawa, Ebie partnership crashed, he to Punuka Chambers in Lekki Phase1, owned by highly respected Senior Advocate of Nigeria (SAN), Tony Idigbe and his wife. but when Ebie continued his shady deals with Ibori using Punuka as a front, Idigbe asked him to leave.
 
It was learnt that Idigbe was gutted when he learnt that Ebie had been indicted in London for money laundering, and by the Economic and Financial Crime Commission(EFCC), alongside Ibori and his mistress, Udoamaka . While Ibori fled to Dubai, the UAE capital where he is still fighting his extradition to the United Kingdom, Udoamaka was convicted and jailed in London alongside Ibori's sister, Christine Ibori-Ibie.
This very close confidante of the ex Delta Governor, it was learnt, has been very wary of leaving the shores of Nigeria sequel to the arrest of Udoamaka in France and subsequent extradition to London. When his wife Kehinde, gave birth to their last baby in Houston last May, Ebie stayed away.
Pointblanknews.com learnt that Ebie now hangs around with another Ibori's crony, Weyimi Aruenigho, a delta born British citizen who also has a dodgy pedigree. the duo now operates from one of Ibori's offices on Victoria Island, Lagos. They are involved in several shady oil and gas deals.

 


Readers' Comments