2011: PDP may ignore EFCC's Report on Bankole, Fayose, Nnamani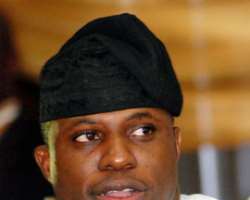 There are indications that the Peoples Democratic Party (PDP), may not be willing to enforce reports from the Economic and Financial Crime Commission (EFCC), concerning aspirants indicted for fraud or those who have cases to answer.
Few weeks ago, EFCC chairman, Farida Waziri met with PDP chairman, Okwesileze Nwodo. At that meeting, pointblanknews.com learnt, Nwodo assured Waziri that every lousy report on any aspirant received by the party would not be ignored.
EFCC had severally maintained that every aspirant who has cases of fraud hanging over his or her head should be stopped from running for any office. It followed this up with formal notices to the political parties of its (EFCC) readiness to avail them of the reports.
However, Pointblanknews.com learnt that despite the assurances from Nwodo, the party may have some moral and legal issues to contend with.
advertisement
Some of those who are on the bad books of the EFCC include Speaker, Dimeji Bankole, his Deputy, Bayero Nfada, Ex ekiti governor, Ayo Fayose, Ex Ebonyin Governor, Sam Egwu, Chimaroke Nnamani of Enugu , Ex Benue Governor, Goerge Akuma and Plateau's Joshua Dariye.
EFCC's spokesman, Femi Babafemi confirmed to pointblanknews.com, the resolve of the anti-graft commission to send damaging reports on aspirants to the parties. He however pointed out that it would be the call of the parties to field 'clean' candiadates since the EFCC does not have the mandate to stop any indicted aspirant in his tracks.
According to him " we cant enforce it, but we have told the parties we would make available all the reports for them to use during screening of candidates. It is left to the parties to present candidates without indictments hanging over their heads"
 
Sources close to the party told Pointblanknews.com that the PDP could run into troubled waters if it attempts to stop anyone. They cited the cases of Rivers Governor, Rotimi Amechi and former Vice President, Abubakar who were stopped by the party. They sought redress in court and the action was declared null and void since they have not been convicted by a court of competent jurisdiction.
Another issue is of morals. according to our source, any one stopped by the substance contained in the EFCC's indictment could take a shot at the chairman, Nwodo who still has the case of the $214 million National indentity Card scam hanging over his head. It was one of the sticks used by his opponents during the jostle for the position of party chairman.

 


Readers' Comments