Who is After Mike Oghiadomhen?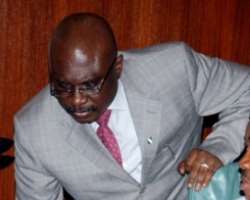 First, they said he had been sacked for speaking with   Henry Okah,   the prime suspect in the October 1 tragic bombing. Next, they conjured he was being kept under house arrest and most recently, they circulated that he has been pulled in by the State  Security Service for interrogation over the Independence day bomb blast. Lies, all barefaced lies!
  However, this further strengthens the perception that not a few individuals may be prepared to adopt extreme measures in the cause of the 2011 general elections.
  A sordid crime was committed on our Independence Jubilee last Friday. It was not a crime against President Goodluck Jonathan; it was not merely a crime against the over 50 casualties of the dastardly act. It was a crime against the country Nigeria. An affront on the over 160million Nigerians - children and adults, who one way or the other participated in the celebration. It was a humiliation of a nation before billions viewing the ceremony from across the globe.
  It was a rude jolt that reminded Nigerians of the potent threats of enemies within. Even at the peak of the Militant struggle in the Niger Delta enclave, not a single explosive device was detonated in the nation's capital, Abuja. Why now?
  There is no doubt that a lot of interest groups sniping at Jonathan and his presidential ambition are willing to pull out all the stops in their bid to score their points. Whatever be the case, it should be known that the October 1 st bomb blast was a premeditated national sabotage.
  It had been expected that decent Nigerian leaders would have set aside personal persuasions and rise in unison against the assault on the nation, but regrettably, most, angling for cheap political leverage, have instead decided to politicize the issue by opting to vilify President Jonathan for expressing his anger over the shameful outburst while trivializing the fact that a heinous crime was committed.
  The message should be clear to discerning minds. There seems an active replay, already in motion, in the same character of those faceless elements that held Jonathan hostage as Acting President and almost thwarted efforts to make him substantive president. They are back to the trenches albeit in a different garbs.
  Within this period, it would be recalled that the person and character of Dr. Goodluck Jonathan have been severely maligned. Even his wife has not been spared in the bid to get to him. Yet he had always approached these political assaults with maturity and equanimity unlike any past president of Nigeria civilian or military.
  As the 2011 election draws nearer and the stakes goes higher, his faceless attackers can only get more vicious.
  Expectedly they have recently picked on one of the President's strongest lieutenant, his Chief of Staff, Mike Oghiadomhe.
  The office of the Chief of Staff in any government is very strategic and whoever occupies it must be a dependable confidant and strong ally of the President. In the same vein, whoever goes after the President's Chief of Staff, is definitely gunning for the President.
  Little wonder the name of Mike Oghiadomhe had been bandied back and forth as either having been sacked or arrested in connection with the call Henry Okah claimed to have received from a Presidential aide.
  Apparently, paid charlatans who are still bent on destabilizing Jonathan are merely shopping for a name to attach to Okah's cock and bull of receiving a call from an aide of President Jonathan just to give teeth to a smear theory that the Presidency wanted to hush MEND's claim of being responsible for the bomb attack on the nation's capital. It flies in the face.
  Their desperation is such that even after a particular radio station in Nigeria had contacted the Presidential spokesman, Ima Niboro to find out if Oghiadomhe had truly been sacked and Niboro dismissed the speculation as false, the radio outfit went ahead to air the false and malicious fabrication that the Chief of Staff had been sacked.
 
In spite of the repeated declaration by the presidency that Oghiadomhe had no issues to answer and was still working, another online media organization followed with a report that he had been arrested for interrogation.   Desperation should have a limit! No matter how much a lie is twisted or how many times it is recycled and put in circulation, it can never translate to truth.   Against speculation however, Okah is yet to name the presidential aide who purportedly spoke to him in spite of  presidency's challenge to him to name his caller.   Moreover, Okah, as unscrupulous as he is known to be does not strike anybody as one who would cover up for any presidential aide in the face of the prevailing circumstances.   Okah is aware that the authorities are waiting to pounce. All they need him to do is just call a name and his call log would be pulled and a thousand holes would puncture his claim. And if he is lucky, he may get away without an additional perjury charge to his list of charges.   The truth is, Henry Okah is running out of time and merely reaching for straws.     In any case, the truth of this matter definitely, would soon come to light and all those shopping for a fall guy would realize that only the guilty should take the fall.   The choice of Mike Oghiadomhe as a fall guy, to say the least, is an ugly exhibition of full-blown desperation and above all, a serious disservice to good conscience.
Afam Ogar