BASKETMOUTH SETS NEW STANDARD WITH LORD OF THE RIB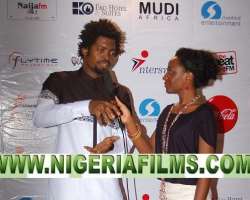 From the red carpet to the sold out tickets to the full-to-the-brim hall and the stellar performances put up by the comedians and musicians, Basketmouth has set a new standard for comedy shows in Nigeria. Expo Hall, Eko Hotel and suites was the venue, date was October 10, 2010 and the event was Lord Of The Ribs.
Starting with a performance by the host himself, Basketmouth ushered the audience into what to expect that night with rib cracking jokes.
Coming after the host was Onyebuchi who thrilled the audience with jokes from his rich repertoire of jokes. Bovi took the night to the next level as he cracked jokes about his escapades as a married man. Basketmouth had been coming on stage after the performances of every comedian soon came on stage as loud ovation rent the air as he introduced the next comedian with the signature "Hallelu". Gordons didn't betray the crowd as he reeled out jokes with the audience asking for more as he left the stage.
The Nigerian comedians held the stage so well and the foreigners did not do bad as they held the stage well and gave the audience a nice time for their money. First among the foreigners to rock the stage was South African, Ndumiso. Ndumiso did a great job making the crowd laugh, same with Kelvin J from UK who though white with an accent still cracked enough ribs that can last him a life time. He made the audience laugh with jokes that exalted the virtues of Nigeria. Kelvin J was not alone in making the audience laugh with jokes about Nigeria, Gina Yashere, British born Nigerian comedian also had things to say about Nigeria as she made jokes on tricks Nigerians make abroad.
It was not over with Nigerian comedians with I go die, Okey Bakkassi, Ali Baba holding the stage in different performances.
Coming after the performances by the comedians was an interlude which saw the emergence of Mr Nnamdi Nwabara winning a million naira in the Coca-Cola open happiness raffle. He was presented a dummy cheque of the money that night.
There were also Virgin Atlantic air and South Africa Airways tickets up for grabs that night. After 3 tries, a lady was able to mimic how flights are announced in Virgin Atlantic plane won a ticket for two. Another lady won ticket because she got the year South African Airlines started operation in Nigeria correctly.
Lord of the Ribs was not comedy all through as various musicians graced the stage with their performances. Present at the event were A- list musicians like Tuface, Terry-G, Jesse Jagz, MI, Sound Sultan, Durella, Eldee tha don, Naeto-C, Ikechukwu, Banky-W, Ice-Prince and Whiz kid. They all added to the glamour that greeted the night with such stellar performances that will continue to place Lord of the Ribs as a classical event of class.