Ex-Gov. Adamu Muazu Still Under Investigation, Not Cleared – EFCC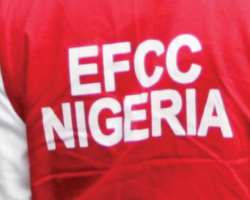 San Francisco, Oct 11, (THEWILL) - The Economic and Financial Crimes Commission, EFCC has declared that it has not cleared former Bauchi State Governor, Adamu Muazu of corruption charges.
The EFCC in a statement today debunked reports that suggest that the anti-graft agency had concluded investigation on the corruption charges against the former governor and found nothing against him.
The anti-graft body said it had to issue the clarification as a response to persistent enquiries coming from members of the press and the general public on its alleged clearance given to Muazu.
"We wish to state emphatically that ex-governor Adamu Muazu is still being investigated and as such could not have been cleared of graft allegations against him.
The former governor who until recently has been out of the country is still expected to honour an invitation to interview a team of operatives investigating the case against him", the statement added.
While urging the media to always cross check their information through the open communication channels provided by the commission, it further explained that none of its officials has been mandated under any guise to speak on a case that is yet to be concluded.
A local newspaper, ThisDay, earlier today reported that Adamu Muazu, who THEWILL gathered is interested in contesting the 2011 presidential election, had been cleared by the EFCC of charges of corruption and abuse of office.