26 Political Parties Merge To Unseat Fashola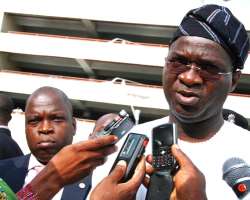 PHOTO: LAGOS STATE GOVERNOR BABATUNDE RAJU FASHOLA, SAN.

LAGOS, Oct 12, (THEWILL) - About 26 political parties in Lagos today vowed to form a strong alliance and contest for all political offices available on the platform of one political party with a sole aim of unseating Governor Babatunde Raji Fashola (SAN), citing poor performance as the rationale behind the alliance.
The parties are uniting under Coalition of Lagos State Opposition Political Parties (COLASOPP), which include such political parties as All Progressive Grand Alliance (APGA), the late Gani Fawehinmi's party, National Conscience Party (NCP), Action Party of Nigeria (APN), Action Alliance (AA) and Democratic People's Party (DPP) among others.
This was revealed at a news conference held at the International Press Centre in Ikeja, Lagos. The alliance was convened by National Chairman of APN, Dr. Adebola Dominic, who said the sole objective of the coalition "is to dislodge the ruling Action Congress of Nigeria (ACN) from government in the upcoming polls."
According to the convener, "the coalition is a decision reached by the leaders of the 26 political parties to contest the 2011 election in Lagos State on the platform of one political party. All candidates of the coalition shall campaign and contest under the name, logo and emblem of the adopted political party which we shall make public very soon.
"We resolved that all elective offices in Lagos state from the governorship, national and state assembly to the councillors shall be contested under new platform to remove ACN dominance in the state," he said.
"ACN government has been concentrating its effort on trying to satisfy the ambition of an individual to expand his political empire in neighbouring states by sponsoring failed governorship and other political aspirants at the expenses of Lagos State," Dominic alleged.
"The ACN has been in government in Lagos State for 12 years and the so called achievement is in fact a disastrous performance when you consider the enormous resources at its disposal from the federation account and from Internally Generated Revenue (IGR).

"That said it is estimated that the ACN government in Lagos State has squandered N38.4 trillion in 12 years. Many African countries cannot boast of this amount in 20 years".
He said the administration of Fashola "is mere media hype. We are determined and indeed ready to shock those pretenders come 2011 election because we have the means, the people and we have strong reasons to take over from Fashola at the polls."