ADAORA UKOH ON ADVOCACY CHARITY WALK FOR WORLD MENTAL HEALTH DAY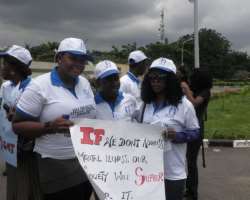 The World Mental Health Day celebration on the 8th and 9th of October, an international day set aside by the United Nation to jointly advocate on mental health issue, the day was separated from the original international health day just to focus more on mental health issue.
With reference to the yet uncurbed upsurge of mental health issues in Nigeria and its huge capacities in hampering the economic value and performance of the nation's human resources.
The 2-day event activity summary:
Day one: MENTAL HEALTH ADVOCACY WALK from LTV Complex, Agidingbi, to Lagos State Government Secretariat. where they were attended to and addressed by lagos state commissioner for heath and environmnet
Day Two: Workshop and Simulation Dialogue at the Rorunda Hall, National Library, Yaba, Lagos in attendance with the British high commissioner and Hon minister of info.
Adaora Ukoh has since been invited to lecture a few secondary school in attendance on MENTAL HEALTH ISSUES.