NWODO CHICKENED OUT ON ME – KALU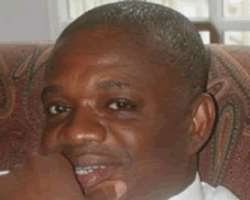 Former Governor of Abia state, Dr Orji Uzor Kalu, has declared his interest in the 2011 presidency under the Progressive Peoples Alliance, PPA. Speaking in Abuja during the week, Kalu said he had the best credential of all the aspirants jostling for the plum job, adding that he was running to represent the oppressed people of Nigeria and the deprived and marginalized   Igbo people living in Onitsha, Aba, Enugu, Abakaliki and all parts of Nigeria  who are still feeling that the civil war has not formally ended going by their alienation in the national scheme of things.
Kalu in this thought-provoking interview says he will be the new thing that people have not seen and the new bridge that will end the fight between President Jonathan and Babangida, Atiku, Gusau and others. He also spoke on his alleged return to the PDP and why the alliance between PPA and PDP seems to have collapsed.
Some weeks ago, we heard that you returned to the Peoples Democratic Party (PDP). Are you still there?
I can say yes and I can say no. I am still there for now and watching how the nation goes.
The reason you gave for going back to your old party was that you had an agreement with Dr Okwesilieze Nwodo; that if he became chairman of the PDP, then you will return to the party. What was the nature of this agreement?
It was not really a full agreement. It was an act of sympathy when he was making wider consultation. Both of us left the party the same day but from there, he has gone to the All Nigeria Peoples Party (ANPP), Action Congress of Nigeria (ACN) and he's back in PDP. We agreed verbally on a gentleman's agreement; that we have to support the party to build a strong party in our area. As far as I am concerned, I kept to my own part of the agreement.
Did you receive the right welcome when you returned to the PDP?
I received the right welcome but later learnt that there was interference from the presidency. They were thinking I was going to run under the PDP then, for presidency. To me, I took it as an act of God because anything that happens to a man is for his good.
So, if for example, the PDP gives you a waiver, you can contest for any position in the party?
To be honest with you, I have not asked for a waiver since I returned to the party. But from the way they are going, it seems there are too many people antagonizing me. They are taking it personal, even those that left the PDP and I welcomed back as governor of Abia state. They are taking the issue personal and this issue is not just one person's issue. In a multi-party system like Nigeria and the PDP, there are not supposed to be people saying you must leave after two years. No.
It is unconstitutional and unheard of. It means depriving people of their fundamental human rights. So, my right as a person is always to respond to the yearnings of my people; to listen to the cry of my people no matter who stands in my way and still be be able to say yes, my people want the presidency like they want it today. The Igbos are the only people that need this presidency more than the South-South and the North. Although, I believe in the zoning of positions in Nigeria, including the presidency.
When you left the Peoples Progressive Alliance (PPA) and returned to the PDP, what was the understanding, for example, with respect to what happens to the Abia state chapter of the PDP because you are leading people and usually, there must be an agreement on how they will be accommodated at the state level. Was there any agreement?
To be honest with you, Dr Nwodo planned for us to go and meet President Jonathan; that we would sort out everything until Dr Nwodo suddenly chickened out. Why he chickened out, I have not been able to ask him. Since that day, I have never called him again.
At the center of all these is the fact that you are in conflict with Governor T. A. Orji, a man you anointed from prison and helped become governor. What actually went wrong?
To be honest with you, it will be wrong for me to discuss Governor Orji in public or in private. I have said this time without number that our issue is like that of a son and a father or of two brothers.
When I was leaving office as governor, inside my bedroom, with him and his wife, I told them that I was leaving them and their conscience to rule.  And openly in the stadium when I gave him the handover notes, I also repeated the same thing. I can never and will never discuss Governor Orji. I am not running for governorship and I am not looking for what he is looking for. And I am not looking for people at that level to discuss.
But what has happened to Abia state in the past one year? It looks like there is total breakdown of order in terms of kidnapping and everything. Is it correct as some people say, that it seems that what is happening were laid in the eight years when you were governor or is it attributable, at least partly, to the conflict between you and Governor Orji?
No. No. No. You see, this kidnapping issue, if you remember, started from Warri area and went to Rivers state, including all parts of South-South and some parts of South-East. If Governor Orji will say the truth, he will tell people that when I was governor, we fought these people with everything we had. We fought them to make sure that the state was safe. When I was governor, even if you left the key of your car in Aba, it was safe. We policed them, we fought them.
I put a social security insurance scheme in place for the policemen who were patrolling everyday and made sure we paid them directly every week and not giving the money to their superiors or the commissioner to pay them. And I put a lot of incentives both for the mobile policemen and the ordinary police in Abia state. They were really motivated and we worked the State Security Service (SSS). I was very open. I picked my calls at anytime and people could call me and say what was happening where.
If you recall, when they wanted to attack the defunct Standard Trust Bank (STB), now United Bank for Africa (UBA), in front of the Government House; because they were attacking banks in front of government houses at that time, it was only in Abia that they got stuck. I came that morning and there was an exchange of firepower between our men and these boys from 11pm till about 5.15am the following morning. So, it was all about commitment to work.
You see, governance is all about the people. You have to take care of the people. Everything about governance is all about the people and once you focus on the people, you'll get good governance and once you don't focus on the people, people might be planning evil and you would not see it. We were able to give free education and all these boys were in school. Possibly now, they are no longer in school.
So, I feel that there are some structural problems and since they settled out of South-South, they made Abia their base because Abia is the big base for them now and I must also say that last week's raid by the Army, was a good initiative.  It is so unfortunate that kidnappers will take over a place like Abia; a place that used to be very hot for them. Even as a private businessman, people who are owing us a lot of money have left Aba. They collected goods worth millions from us and they are no longer there and there is no way you can collect the money because they come to the warehouses, take these goods and register their names. Now, they have all left. The situation is killing investors and businesses.
Mind you, in the last days of my administration; all the white people in Port Harcourt and Bayelsa were living in Aba and Umuahia. Why these things are suddenly happening is what I don't know. May be they are not creating enough jobs and activities for these boys. And I think that government, both federal and state, should have a synergy to tackle this problem.
You are one of the founding members of the PDP. I remember the whole argument when you said you donated a million dollars to the party in 1999. This zoning issue which people say is the heart of the PDP arrangement in; is it true that the PDP has this policy of zoning considering what the president said recently that there is no zoning of the presidency; that it is after we elect a president that other offices are zoned? What is the true position of this zoning issue?
You know that the boss is always right. I can say that the president is right and can never be wrong. But to be honest with you, right from when this party was formed till when President Obasanjo came out of prison, we agreed on many occasions that there will be zoning between the North and South. And that was why you saw that in 1999 that the two presidential candidates came from the South-West area because we all agreed that they should go for the South-West; to be able to appease them for the June 12 election.
And that was exactly what happened. That was why you saw that all the people that were voting, voted against Dr Alex Ekwueme who was an apostle of zoning. He supported zoning according to the geo-political zones. For me, if this rotation had gone round every zone, it will be right to say we don't want this any longer. You don't change the goal post in the middle of a match. We have started this with the South-West, it came to North-West. We should let it go round because it was an agreement of the PDP that zoning must be there.
Mind you, I was two-term governor of PDP. I didn't run under PPA in my second term. The last meeting to discuss about President Obasanjo's second tenure was an issue because first, we agreed with President Obasanjo that he was going to do one term only. He not only got a second term but also wanted to be life president. And those were the problems I had with him before we went our separate ways. So, I sincerely believe that both the elites of the North and the South have not been fair to me because I have been the one insisting that we are not saying the truth, we are not doing this thing the way we are supposed to do it, et cetera.
Check where the whole federal government put their machinery against one man called Orji Kalu; that he is the problem. Zoning was what we agreed on in PDP. If they want to change it, because they don't need it again, let them go back to a total convention and the convention will change it because it was done by convention and it can only be changed by a convention of the party.
The PDP National Executive Committee (NEC) has said very ambiguously that they are retaining zoning but everybody can run for presidency. Jonathan from the South-South zone and about five people from the North are running. Why is it that there is no one from the South-East who is running for the presidency up till now?
The issue is that most of our leaders blow hot and cold. I think it is a fundamental issue or a psyche they inherited from the civil war; that nobody has the guts to say what is right or wrong.
This is what I have been thinking. I came back to the PDP based on that issue; to run on that platform. Now, if they are not giving me the green light to run on that platform. I am consulting people in the East, South-South, locally and internationally; that if you give me the opportunity to run for president, I will because it is the right thing to do. If I cannot get a flight ticket in PDP, I will fly British Airways. There are many other planes to fly there. I can even fly the Air Nigeria ticket. So, the summary of the whole thing is that between now and December 20, I will launch my presidential campaign big time in the East under any party that gives me the ticket.
Does this mean you are in the presidential race for 2011?
I am in the race now. I am in the race. I am definitely running.
Are you running on the PDP platform?
Well, the PDP needs a waiver and I am not sure that NEC is going to sit again because the way they put it, even if I am going to run under the PDP, they will tell you that they are blocked. The governors of the South-East have been very funny by saying that they don't want any south-easterner to run for president or vice. I am not contesting for vice president. I believe in zoning but I am not looking for vice presidency. I want a quality Nigerian of Igbo extraction to be president because presidency is not all about I will give you light.
How are we going to give that light? We lack production and nobody, including politicians is talking about indices that lead to growth. No politician is talking about how we are going to do the things that will bring about growth such as internal security, light, education and agriculture. These are what any president should focus on because we have a large population and we must feed them. Nobody is discussing these issues.
When Awolowo was contesting for presidency, he told us that he would take this money from first development plan, that this money was meant for this, and that one was for electricity. These days, nobody is discussing these issues. All that the politicians are telling us is zoning, zoning, zoning. Nobody has come out to discuss how we are going to address the issue of unemployment which is the biggest problem aggravating crime in the country. Nobody has told us how we are going to increase production.
It is criminal to hear that everything that we use in this country is imported. Nobody has told us how we are going to change the cultural background of our people from realistically believing in money to less belief in money. Nobody is telling us how we are going to integrate our rural and urban areas so that people will stop migrating to Abuja, Lagos and Port Harcourt and stay in the rural areas because we have forgotten our cassava, our groundnut and our palm produce.
For us to move forward, presidential candidates should come forward and tell us realistically how we are going to generate money from non-oil sector and that is where the real wealth is. If we have internal security, we will be making more money from tourism than the Nigerian National Petroleum Corporation (NNPC). That is the truth because we have desert, we have the Atlantic Ocean and all kinds of things that we can tap into.
We are surrounded by Francophone countries and nobody has said let's make a policy that every child in primary and secondary school must learn French. I started it during my last days in office as governor and we were finding it difficult as a state government to employ French teachers, high quality teachers. But nobody has said that it should be established as a basic policy that we must speak French in this country, to assist us to integrate with other French countries surrounding us so that trading with them will be easier. Nobody has also thought about economic deployment in countries we have deployed our soldiers for peacekeeping such as Liberia, Sierra Leone and other places. There is no economic diplomacy as follow up. Everybody just wants to be president and they have no idea what it takes to be a president.
I am a Nigerian Chief Executive Officer (CEO). I see myself as a CEO. I grew my business from zero to something and came into politics to contest for the House of Representatives and thereafter, became a two-term governor. So, I am more qualified than any other presidential candidate running for the 2011 presidency today. I know the problems of the nation. When you see me, you see the face of a Nigerian who understands this country. Most people on the streets don't understand this country. They don't know the problems of this country. They don't know the problems of the West, the East, the South and the North. They don't know them.  I know this country very, very, very well. For you to be a good manager of people, you must have experience. You need to have grown something.
Mind you, I was the youngest bank chairman. At 27, I was already chairman of Cooperative and Commerce Bank. So, I have more experience than most of these people who want to govern us today.
There is still this issue of which party platform to run on. From everything you have said, I can see that probably you will not run with a PDP ticket because it requires waiver and probably they have stopped giving waivers. So, what is your alternative platform?
Oh! If I am not given a presidential ticket in PDP, I am going to run on the platform of PPA. I am sure, from what Professor Jega is doing, he is not going to base issues on party system but on individuals. And I am sure that Nigerians will repose their confidence in another party because after 12 years of governance, even if the PDP had painted gold on the streets of Abuja and Nigeria, they need to have an alternative and it is that alternative that I am asking for. So, I will be the alternative.
I will be the new thing people have not seen. I have the skill, the energy to work and I am forthright. I am being punished everyday because of my position on third term and I am not even scared about that because when they said at the National Assembly that 31 governors were corrupt, when I came out, they were all looking for Orji Kalu. They still want to punish me and I don't know the reason. Nigerians know that for you to move forward in anything you are doing, even in anti-corruption, you need to be just and fair to the people. Look at the dust they are raising over the Halliburton scandal.
The big masquerades are in their rooms and they are trying less important people. Some of those aides, does Siemens know them? Does Halliburton know them? They know those that sent them. They (Siemens and Halliburton) don't know them. They are just messengers. So, how are you going to try a messenger that didn't know a parcel they gave him when they said, please take this parcel and give to Oga. He didn't know what was inside. You can't do that.
I believe sincerely that if we want a just Nigeria, we must begin to be fair to one another. Our leaders at all levels have failed us. They have not showed commitment to the people. You can see people appropriating money. They don't keep to budget and they don't even know what budget is all about. And if you challenge most of our political leaders today and ask them the difference between what is budgeted and what is going to be spent, they don't know what it is. The office of the president needs a high class, experienced worker. It needs people who can be committed to work.
You see, in Nigeria, people see presidency as 'the good life for me and my family', a good life between me and the other people and a good life between people who go around. No. That is not the issue. The issue of presidency goes beyond that. You must have contacts to be able to govern, you must have a strong character to be able to say no to your aides and you must have contacts to be able to redefine what leadership is all about. Leadership in the 21st century should not be about commissioning water projects. It is not about saying we have built health centers or farm whatever. Leadership is centered on finding solutions to make the railways work. In fact, government should not even have anything to do with water and electricity but they have to do the major investment in electricity first before privatizing it.
Do you know that it is shameful that Nigeria is the only country in the world that does not have a land line? A country of 200 million people, we don't have a land line in our homes. We don't have a fixed line in our homes. So, without the Global Systems of Mobile telecommunications (GSM), we are finished. How can a country be living this way? A country of 200 million people, we don't have rail transportation. We don't have sea transportation. We don't have anything to help.
Only road where millions of people are dying. So, I don't consider our leaders as serious people and that is why I have an independent opinion. Yes, I might be a conservative radical or I might be a capitalist radical but I am a radical for the people. You can see that you can't lead people if you don't love them. You must love people in order to be able to lead them. That tells you that from all their fight for the presidency and other positions, nobody has spoken about the suffering the Igbo people went through.
Nobody has thought about how they are going to pay reparation for the war. I am a full supporter of a new Nigeria, great Nigeria! But attention should be paid to the South-East. Nobody has thought that in 20 years, since the relocation of the seat of power from Dordan Barracks, Lagos to Aso Rock Villa, Abuja, no Igbo man has lived either in the upper level or the lower level. Is that justice? We are the salt of the nation.
When you go to anywhere; from Birnin Kebbi to Nembe; that is, from Sahara desert to Atlantic ocean, you will see canoes and the people you see living there are Igbos. We are the salt of the nation. We are the only people who go to one part of the nation and we start building our houses and make homes there. So, why don't you make us president? I ask this question as an issue of right; that it is our right today to produce the president of this country.