I FAINTED WHEN I SAW MY BROTHER'S CORPSE – KENNETH ONA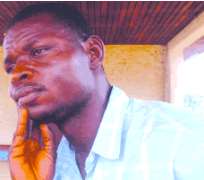 Kenneth Ona
Kenneth Ona, taxi driver and elder brother of Alfred, driver who died along side Ambrose Onyeme Ozioko (27), John Chidera Arau (11) and Paul Onyekachi (7), children of Mr. Donatus Arua, was the best keyboardist in their church.
He said he got a call from another taxi driver, while he was at Wuse, Zone 5, to repair the church's speakers, who asked if he had heard of the bomb blasts earlier in the day.
He said: 'I said that was news to me and I asked about our other colleague, who was from the same village as I. I was told he was okay, since he did not leave his house that day. Barely 15 minutes after that Donatus, the father of the three boys, called to ask if I had heard from Alfred, as he had taken three of his sons to Eagles Square.
He asked me to rush to Eagles Square. Before I got there, I got a call from him again to go, instead, to Aso Clinic. On getting there, I saw Julius Berger staff and the foreman. They were searching for their workers and those affected by the blasts. The foreman recognised me as Alfred's brother and we were informed by the manager of the hospitals that the injured and the dead were taken to Maitama General Hospital, Asokoro, National Hospital, Wuse and Gwagwalada and that was how we started going to all the hospitals, but we could not trace them.
'The foreman advised that we continued the next day at Gwagwalada. He advised that if we did not find them among the injured, we should check the morgue. Eventually, we saw all four of them at the National Hospital morgue. I couldn't believe that my brother was dead, even when I was told he was the one lying on the floor. They were burnt beyond recognition. I needed to see the birthmark; that was why I asked the mortuary attendant to remove his shoes and stockings to confirm. Behold, he was indeed, the one and I fainted (breaks down uncontrollably).'
'My brother is a very good person; that is all I can say. On Sunday following this incident, we had a bazaar in my church, but nothing was moving because Alfred was a good keyboardist. His absence was felt when the choir wanted to sing. They were crying even when they were singing. It was a very sorrowful day. He is everyone's friend, especially the kids, even though he was not married nor did he have kids of his own.
'I don't know the mission of these people who killed my brother and other innocent lives. I have told God that if it is His will that my brother should die this way, then let it be, but if it is not His will, God should fight for me. Right now, my mother is not aware and I have pleaded with Julius Berger management to allow me go ahead of them before they take the corpses home. Our father is dead and I am not sure how my mother would take it. I hope we don't lose her too. This is a very sad day for me.'