ANOTHER CHURCH FETES 1000 INDIGENT CITIZENS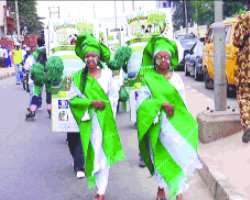 Findings reveal that Lagosians in most places celebrated the independence in low key. But some churches provide humanitarian services to their members and the public with pomp. Also, Nigerian government received clerics' blame hinged on the failure to provide basic welfare services for Nigerians.
Towards midday on Independence Day, it was observed that many Lagosians wore worried looks. The forlorn looks on their faces betrayed a celebrative mood expected on such day. It appeared as if some of them had more burden than being celebrative. Some streets were deserted. Curious to find out the cause Saturday Sun interviewed some Lagosians.
Mr. Amos Femi rides commercial motorbike, said: 'My brother, to be very frank with you, there is nothing to celebrate about Nigeria's achievement at 50. But we are trying to be happy because we are still alive and struggling. It is only big men like you who should make me celebrate.'
Having said that, he wore a mischievous look, smiling and hailing the reporter, he chorused in Yoruba: Oga mi o, and grabbed a N100 note the reporter had in his hand.
The encounter with Amos was not different from several others. The young ones who were clad in green and white costumes.
Some of their songs reflected their feelings about inadequacies in the state.
Though, they appeared celebrative outwardly, a closer examination revealed that bitterness lurked behind the joyful mood.
Apparently aware of the poor mood of the people, some churches attempted to put some smiles in the faces of Nigerians by providing empowerment services for the financially less privileged. The target population filled such churches for solace.
Inri Evangelical Church, Oke-Afa, Lagos, hosted over 1000 orphaned children, widows, and vulnerable children. The church, through its NGO for women and children, Inri Widows' Foundation, (IWF) gave cash, foodstuffs, clothing to women and children. Some of them got as much N50,000. This gesture brought the beneficiaries smiles. One of them who spoke to Saturday Sun , said: 'This is not the first time the church is doing this. It has continued to fill the gap for our government who don't care for us at all. My mother was widowed some years ago, leaving three of us with our mother and we had found things very tough until we knew Inri church. Since then, the church has taken up the responsibility of our education, feeding, clothing and setting up a business for my mother.'
Founder of the NGO and leader of the church, Primate Ayodele lamented the high level of poverty in the land and blamed the government for it. He said: 'Today's is not a celebration for Nigerians at all. Look all over around you. You cannot find any reason for Nigerians to celebrate. I have walked around my area today. I do not see happy faces but worried looking people, wild area boys and all that. Many Nigerians do not have the basic necessities of life: food, shelter and clothing. Sadly, our government rakes in billions from our tax and refuse to cater for the citizenry.
This is why we rise to the challenge to provide humanitarian services within our power. I wonder why Nigerian leaders prefer to squander our funds on honoring thieves instead of using the money to provide basic amenities for its citizens. Let me have just N1 billion and see how many Nigerians I will empower. This is what is required of our leaders.'