ABUJA BOMB BLAST, FATHER'S AGONY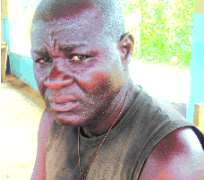 Donatus Arau
To say that Donatus Arau, an indigene of Nsukka, in Enugu State and a trailer driver with Julius Berger, is a depressed man is an understatement. One is not surprised to find him surrounded by his colleagues and relatives trying to encourage him to take it easy. Their eyes follow every of his move and they express concern when he is lost in thoughts or heave a sigh of grief. Arua was hostile giving directions on phone to his house, at the Julius Berger Camp, in Maitama District, Abuja, but you'll understand when you come face to face with him and you see a picture of a broken man that might never recover from a disaster that has be fallen his family.
He is yet to come to terms with the fact that the twin bomb blasts of October 1 claimed his three sons (Ambrose Onyeme Ozioko (27), John Chidera Arau (11) and Paul Onyekachi (7) and the driver, Alfred Ona (32), who has since become an adopted son even though they were both working for the same organisation, Julius Berger.
Alfred was on duty on the fateful day, as he was one of those that took Julius Berger workers to Eagles Square to participate in the Independence celebration march past. Donatus and his wife Lovelyn, had left the house as early as 7 a.m. for a family visit, hence they were not home when the three boys decided to accompany Alfred to watch the various activities at the Eagles Square on that fateful day.
Alfred had always taken the boys out once in while for a drive around town, especially when he was taking the Julius Berger workers to work. So, when he called their parents on phone to inform them that he had taken the three boys to Eagles Square, they did not expect the worst, though they would have wished they did not accompany him on this particular day.
How did the couple hear about the tragedy? Arua said: 'Myself and my wife were still where we were when I got a call from a colleague at about 3 p.m. asking if Alfred was back and I asked why was he asking me because I was not yet back at the camp. He replied that there had been bomb blasts at the Eagles Square and they had been looking for him ever since. I screamed: 'He has my three kids with him o!'
'I started dialing his number, but it was not going through. I asked my wife to give me his number, probably, I had the wrong one. I dialed again it was the same number and still it was off. Then I called his elder brother, Kenneth, to ask if he had heard from his brother, Alfred. He said he had not but was going to call his number and call me back. My wife and I hurriedly left where we were and returned to the camp to await words from anybody who had any news. When none was forthcoming, we hit the road, going from one hospital to another searching for our sons among the injured. But they were nowhere to be found.
'Then we got information that two of our drivers were injured and were at the Julius Berger clinic at Life Camp and we rushed there. It was there, we were told what happened. One of the drivers said they were behind Alfred, who held my youngest son's (Paul) hand, while Romanus held John getting ready to head for Eagles Square, after they had discharged the Julius Berger workers who were to take part in the march past when, all of a sudden, there was a bomb blast.
'When I heard this, I was heartbroken and I gave up hope, not because I thought they were affected by the bomb blasts but that they must have been trampled upon as a result of stampede that resulted from that blast. On hearing this, we intensified our search until late in the night then we went to the police station at Maitama to report. We were told they would only take a missing person's case after 24 hours. We headed for Radio House, but when we checked the time and found that it was 11 p.m., we had to go home and wait for the next day, Saturday.
'We started again at Wuse General Hospital, the next day. We asked to be taken to the morgue. It was there I saw my kids (he broke down here uncontrollably and even had to excuse himself for a few minutes before he could continue. 'They were badly burnt. I recognised them because of the cross they had on their necks, Alfred's brother, Kenneth, refused to believe that his brother was dead and pleaded with the morgue attendants to pull off the shoes and stockings his brother had on to confirm, via the birthmark he had, if indeed, he was the one. On sighting the mark, he fainted.'
Donatus recalled the last conversation he had with his youngest son that morning before they left for their outing. He revealed: 'My last son, Paul, had queried why I was not wearing the same outfit as my wife, since we both had it. My wife supported him and said: 'Don't mind your father, my son.' Then he turned to my wife and said: 'but mum you have the same outfit as his; why not change and wear that instead, since he doesn't want to wear what you have on?'
'We were that close to our kids. It was one beautiful family and now those blasts have claimed them. I thank God for courage and the fact that my daughters are still around and did not join them in that ride of death. I will forever miss my sons. I won't remain the same again. I have lost all I have in Abuja and I will bury three sons from my house and another adopted son, Alfred, because we are all from Nsukka village. In fact, I am going to bury four sons because Alfred was also my son.
'My last son, Paul, just started primary one, while John just started primary five. Ambrose Ozioko, who is actually the last child of my sister had been with me since his birth and so he is my son. I can't deny him in death now). He had finished school and had completed training to become a trailer driver as myself and I was just about getting him driver's licence to start working when this happened. Those behind this dastardly act have destroyed my house (he broke down again; this time uncontrollably. One had no choice but to join in the grief).'
On what he will want done to the perpetrators if caught, Arua said: 'What can I do to them? Let God take control. If I kill somebody today and I am arrested, I know I will be arrested and the laws of the land will take its course. In the same vein, let the laws of the land take its course. My wife, Lovelyn, is still in shock and so are my daughters. Thank God for good neighbours as well as those from my village and our church members. They have been around us. If not, maybe the situation would have been worse today.'
Asked if the government and his company, Julius Berger, have reached out to him since President Jonathan promised to pay compensations to affected families, Arua said: 'Yes, they have. I got a call to go to Command Headquarters, opposite old CBN in Garki to make a statement and do other necessary things. I did that yesterday (Monday, October 4), but I am yet to bury my kids because as a staffer of Julius Berger, they have a role to play and I have been waiting to hear from my management, because I will want to transport their corpses home.'