2011: AKALA'S EX-DEPUTY JOINS OYO GUBER RACE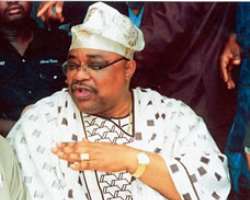 Governor Adebayo Alao-Akala
The ranks of Oyo State governorship aspirants swelled yesterday with a one-time deputy governor of the state, Hazeem Gbolarumi, declaring to contest for the job in 2011. Gbolarumi, who served under Governor Adebayo Alao-Akala during the 11-month interregnum occasioned by the impeachment of Rashidi Ladoja in 2006, is seeking the office on the ticket of the Peoples Democratic Party (PDP).
He is next after Ladoja to signal intention to fight for the PDP's ticket with the incumbent, a development, which further widens the crack within the factionalised party in the state.
The aspirant, a hitherto die-hard loyalist of Akala, had broken rank with the governor over the candidacy of General Ibrahim Babangida for the 2011 presidency for which Alao-Akala supports President Goodluck Jonathan.
At a rally held at the Oyo State Nigeria Union of Journalists (NUJ) press centre, Ibadan and attended by a large crowd of his supporters, he promised to provide positive leadership for good governance and socio-economic development, which, he observed, was lacking in the state.
He lamented the 'backwardness' of the state, which he noted used to be a pacesetter in development issues among its peers, vowing to take it out of the pit of retrogression.
Specifically, he promised to tackle insecurity, decay of infrastructure, fallen educational standard, unemployment, health and housing problems.
His words: 'We, the people, pride ourselves as the most urbane in this part of the world and make claim to being the heart of the earliest Yoruba civilization. However, the story of our heroic and beautiful past contrasts the current reality characterised by palpable atmosphere of insecurity, infrastructural decay, widespread unemployment, and lack of social order.
'We have one of the highest numbers of school drop-outs in the country and our streets are filled with school-going age children struggling to eke out a living. Our aged people are found at motor parks begging. The roads are terribly bad and the commercial automobiles plying them are anything but vehicles. Market places are mostly unhygienic and our cities are just dirty. Moreover, economic activities are regularly disrupted by conflict among rival trade union members, while many lives are still lost to ailments that they best categorized as poverty.'
Gbolarumi regretted that despite vast opportunities, previous administrations, including the one in which he served briefly, failed to meet the expectations of the people, adding: 'While some will find it easy ascribing lack of performance to distraction and insufficient funding, we may agree that no excuses or scapegoats approach will substitute for good governance and socio-economic development.'
He, therefore, promised to harness the enormous human and material resources in the state to improve the living standard of the people.