EX-OCEANIC BANK MD, CECELIA IBRU, JAILED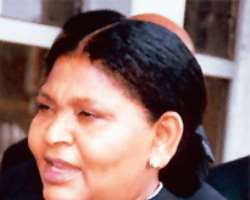 Cecelia Ibru
A Federal High Court, Lagos yesterday sentenced former managing director and chief executive of Oceanic Bank Plc, Mrs. Cecelia Ibru, to 18 months imprisonment. The sentence came after Ibru pleaded guilty to counts 14, 17 and 23 of the 25 amended charges brought against her by the Economic and Financial Crimes Commission (EFCC). She got six months on each of the charges, totalling 18 months. The sentence will run concurrently. However, sources said that the former bank MD had a plea bargain with the EFCC.
Count 14 of the three-count charges, which Mrs Ibru pleaded guilty to, reads: 'That you, Cecilia Ibru while being the Managing Director/Chief Executive Officer of Oceanic Bank International Plc on or about 2 August 2007, within the jurisdiction of this honourable court, approved the grant of a credit facility in the sum of US$20,000,000.00 by the bank to WAVES Project Nigeria Limited, which sum was above your credit approval limit as laid down by the regulations of Oceanic Bank International Plc and you thereby committed an offence contrary to Section 15(1)(b) of the Failed Bank (Recovery of Debts ) and Financial Malpractices in Banks Act Cap F2 Laws of the Federation of Nigeria, 2004 and punishable under Section 16(1) (a) of the same Act.'
In the judgment, Justice Dan Abutu also ordered that the former bank chief forfeits 199 assets and funds worth over N190 billion. The assets are to be managed by the Assets Management Corporation of Nigeria (AMCON).
Mrs Ibru was first arraigned on a 23-count charge on August 31, 2009, and remanded in EFCC custody till September 14, 2009 when she was granted bail by the court. The charges were later amended to 25, in February 2010, bordering on criminal manipulation of bank records and depositors' funds.
In December 2009, the EFCC obtained an interim forfeiture order on the assets of Mrs. Ibru from a Federal High Court, Lagos.
Shortly before her full trial resumed on Tuesday, October 5, Mrs. Ibru had sought to forfeit her assets, in a plea bargain arrangement.
Reacting to the judgment, chairman of the EFCC, Mrs. Farida Waziri, commended the teams that handled the investigation and prosecution of Mrs. Ibru's case. He charged every stakeholder in the war against graft to reinforce their commitment, so that there could be greater results soon.
Waziri said: 'This is an indication that we are making progress in the war against graft in the country. But we can still achieve greater results when all stakeholders reinforce their commitment to the crusade.'
Ibru was eased out by the Central Bank of Nigeria (CBN) along with five other bank chief executives, in line with the recommendations of a CBN/NDIC special audit team that reviewed the financial status of the affected banks.
She was accused of using some companies to acquire over 64 million shares in Union Bank of Nigeria valued at 64, 218,000; 93 million shares in the United Bank for Africa for N93, 750, 000; Oceanic Bank Plc, N1, 076, 220, 421 worth of shares.
Other acquisitions include 13 million shares in Oando, for N13, 200,000 and another 388 million units of shares in other companies as well as 600 million shares in BGL Plc.
Another company linked to Ibru, Prisky Gold, was allegedly used to purchase 48.8 million shares in Access Bank Plc; 8, 140, 500 shares in Dangote Flour; 12, 480, 000 shares in Dangote Sugar Refinery; 12, 500, 000 shares in Fidelity Bank, 27, 434, 791 shares in First Bank; 25, 316, 400 shares in Japaul Oil; 10, 280,000 shares in Zenith Bank and 200,000,000 shares in Transcorp Plc.