ADEFARASIN tells ALEC GODWIN''go and make peace with your ex''!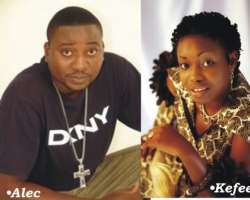 Cliam to fame:once married to 'branamah' singer Kefee Obareki.
The music producer granted an interview recently where once again his diarhea mouth made a show of itself....however when he granted that interview he left out an important fact.......what he didnt say was that a week before, he was in Paul Adefarasin's house on the rock third service on sunday september 5,2010 and was one of those who asked questions at the question and answer session.
The music producer ''said he could not move on because he believed in true love and did not plan to divorce,he said he was afraid''.
He was asked how long he was married and how old he was and his response was ''I was married for three years and I am 36years old''.
This was the pastors response to him.
''put all the blame on yourself that your ex put on you and judge yourself and see if you have been fair in your judgement and question if the ex was right or wrong. If she was right,then go and make peace with her''.
The pastor rounded off that he was not in support of remarriage and cautioned Alec to be careful so that he does not make the same mistake with someone else.
Aalec was advised to go for counselling*.
I strongly advise the music producer to heed the advice from the man of God and stop running his mouth in interviews where all one can see is the name of the ex.He should find out why our forefathers said ''God get reason why he create mouth to stay close and ears to stay open''.
Please someone should help me tell this musician that according to his interview,if he has indeed ''forgiven his ex and moved on''then he should be the bigger man and keep quiet.
Tell him ''stella says ssssssh''.....no more interviews abeg!