Congratulations Liu Xiaobo!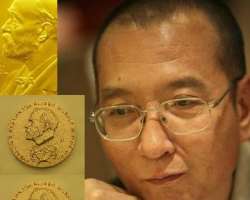 I am thrilled and truly delighted to learn hours back that the Norwegian Nobel Committee has decided to award the Nobel Peace Prize for 2010 to Liu Xiaobo for his long and non-violent struggle for fundamental human rights in China. Particularly I am delighted at this decision of Nobel Committee, because, I fully know the degree of pain, when a person is persecuted by the State for years and pushed into imprisonment. I know, because, like Liu, I also have been tortured and sent into solitary confinement in Bangladesh for 17 months, and till date facing sedition, treason and blasphemy charges for confronting militant Islam, for upholding democracy and freedom of expression as well as opposing all forms of religious militancy.
While declaring Liu Xiaobo's name as the recipient of Nobel Peace Prize for 2010, Norwegian Nobel Committee in its statement said:
"The Norwegian Nobel Committee has long believed that there is a close connection between human rights and peace. Such rights are a prerequisite for the "fraternity between nations" of which Alfred Nobel wrote in his will.
"Over the past decades, China has achieved economic advances to which history can hardly show any equal. The country now has the world's second largest economy; hundreds of millions of people have been lifted out of poverty. Scope for political participation has also broadened.
"China's new status must entail increased responsibility. China is in breach of several international agreements to which it is a signatory, as well as of its own provisions concerning political rights. Article 35 of China's constitution lays down that "Citizens of the People's Republic of China enjoy freedom of speech, of the press, of assembly, of association, of procession and of demonstration". In practice, these freedoms have proved to be distinctly curtailed for China's citizens.
"For over two decades, Liu Xiaobo has been a strong spokesman for the application of fundamental human rights also in China. He took part in the Tiananmen protests in 1989; he was a leading author behind Charter 08, the manifesto of such rights in China which was published on the 60th anniversary of the United Nations' Universal Declaration of Human Rights, the 10th of December 2008. The following year, Liu was sentenced to 11 years in prison and two years' deprivation of political rights for "inciting subversion of state power". Liu has consistently maintained that the sentence violates both China's own constitution and fundamental human rights.
"The campaign to establish universal human rights also in China is being waged by many Chinese, both in China itself and abroad. Through the severe punishment meted out to him, Liu has become the foremost symbol of this wide-ranging struggle for human rights in China."
'I believe that my work has been just, and that someday China will be a free and democratic country,' Liu Xiaobo said in a statement issued by supporters shortly after he was sentenced to 11 years in prison for subversion in December.
Liu's firm stand for democracy and freedom of speech over two decades, despite Chinese authorities' attempts to silence him, won him many admirers inside and outside the country.
His prison sentence was passed one year after his arrest at his Beijing home as he was about to release the Charter '08 for democratic reform.
Liu, 54, had previously spent some five years in different forms of imprisonment, and many more years under police surveillance or house arrest.
The former Beijing Normal University literature lecturer lost his job and was detained for nearly two years for defending students who joined the 1989 democracy protests in Beijing's Tiananmen Square and urging an investigation into the party's brutal military crackdown on the protesters.
Born in 1955 in the northeastern city of Changchun, by 1989 Liu was a reputed literary critic and philosophical essayist.
He married his wife, Liu Xia, in 1996 after both had divorced previous spouses. Shortly after the marriage, Liu Xiaobo was sent to a're-education through labour' camp for three years because of his continued activism.
Following his release, Liu persisted in writing and publishing essays critical of China's authoritarian one-party political system under the ruling Communist Party.
In 2001, he published the essay 'The price of suppressing Falun Gong', in which he criticised a crackdown on the huge spiritual movement that was banned and labelled an 'evil cult' following anti-government protests in 1999.
He headed the Independent Chinese PEN writers' group from 2003 a published regular critiques of Chinese politics and society on overseas websites, winning the 2004 press freedom prize from Paris-based Reporters Without Borders.
Liu became even more publicly outspoken in the run-up to the 2008 Olympic Games in Beijing, saying the government had broken its pre-Olympic promises and rejecting the optimism of some Western politicians and analysts who claimed the awarding of the games to China would encourage greater political freedom and improvements in human rights.
'Previously, I thought the human rights situation would improve as they promised. But now it seems not,' Liu told dpa at the time.
The same year, Liu was among a group of dissidents who urged the government to hold direct talks with the Dalai Lama, the exiled Tibetan Buddhist leader, and allow a United Nations' investigation of Tibetan areas of China.
Appealing shortly after anti-Chinese protests had escalated into deadly ethnic violence, Liu and the other activists accused the government of 'serious mistakes' and 'failed' policies in Tibet.
Police arrested Liu again at his Beijing home as he was writing an article on Charter '08 in December 2008, two days before the publication of the charter.
The charter demands sweeping changes to create a 'free, democratic and constitutional state,' and urges the release of all political prisoners. The original 303 signatories set out their ideals for transforming China into a liberal democracy and lament a lack of 'freedom, equality and human rights' under the Communist Party.
More than 10,000 names were added to global online petitions supporting Charter '08, which was modeled on the Charter '77 produced by Czech dissidents.
More than 150 leading US and European-based intellectuals, including award-winning writers Salman Rushdie, Umberto Eco, Seamus Heaney and Hari Kunzru, issued an open letter calling for Liu's release.
Former Czech Republic president Vaclav Havel, who had signed Charter '77 as a dissident writer, joined the calls for Liu's freedom and was one of his most active backers for the Nobel Peace Prize.
'The Chinese government should learn well the lesson of the Charter '77 movement: that intimidation, propaganda campaigns and repression are no substitute for reasoned dialogue,' Havel wrote in the Wall Street Journal.
Nearly two years after Liu's latest arrest, international support for Liu has grown, making him a focus of Chinese democracy activists inside and outside the country. In the statement issued at his sentencing, Liu said he approached his latest imprisonment 'without the slightest regret'.
I should be rather impractical to expect that authorities in Beijing will immediately release the human rights hero, Liu Xiaobo and allow his to visit Norway to receive the award, but, we can always hope for the best.
Liu Xiaobo is a living example of peaceful movement against evil Regime and undemocratic forces. Nobel Prize Committee also deserves admiration for such excellent decision.