Aondooakaa suspended as s Senior Advocate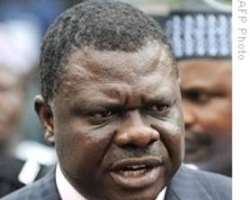 Michael Aondooakaa
Loquacious former Attorney General and Minister of Justice, Mr. Michael Kaase Aondooaka has been suspended as a Senior Advocate of Nigeria by The Legal Practitioners Privileges Committee (LPPC) of the Nigerian Bar Association (NBA) pending the conclusion of an investigation on a petition by the Committee for the Defence of Human Rights, CDHR seeking his removal as a Senior Advocate.
Mr Aondooaka and his family was recently barred from entering the United States in a move aimed at checkmating corrupt Nigerian Politicians. A Federal High Court in Calabar had also barred him from holding any public office following a lawsuit that the former Attorney General impeded on a judgment of a court in an election petition.
The former Attoney General is said to be one of the most corrupt Politicians who served the late President Umaru Musa Yar'Adua.
It was alleged that Aondooaka collected bribe running into several million Dollars to help some foreign oil companies renew their operational license late last year without a presidential approval. He is also alleged to have giving legal assistance to the Yar'Adua cabal leading to the monumental fraud that characterized the last day of the Yar'Adua's administration.
 
 

 


Readers' Comments