Yar'Adua Rolls Out Amnesty Modalities In 2 Weeks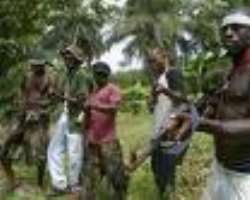 by Kingsley Akor
Nigeria's President Umaru Yar'Adua yesterday said the federal government would in two weeks come out with a comprehensive policy on the modalities and conditions under which the amnesty for militants in the Niger Delta would be implemented.
Yar'Adua, also for the first time, spoke on the ongoing offensive against militants in the Niger Delta, saying that the military "Search and Rescue" mission was targeted at removing elements who had used criminality to hijack genuine agitation of the people of the region.
The President said the criminal elements had constituted themselves into a real threat to Nigeria's security and survival.
Speaking while receiving the report of the Presidential Panel on Amnesty and Disarmament of Militants in the Niger Delta at the Presidential Villa, Abuja, Yar'Adua said what had been lost in the criminal agitation was that the provision of the necessary infrastructure for the socio-economic development of the region was dependent on an enduring atmosphere of peace and security.
He noted that "developments in the nation's Niger Delta Region over the past few weeks have necessitated Federal Government's decisive action against armed criminal elements who have hijacked genuine agitations in the region and constituted themselves into very real threats to Nigeria's national security and economic survival."
According to him, "our agenda for resolving the lingering development challenges in the Niger Delta is still very much on course."
Towards this, the President reiterated the government's "commitment to granting amnesty to all militants who are ready to lay down their arms and return to being law-abiding citizens of our fatherland."
He therefore urged "all militants in the region to take advantage of the offer and lay down their arms and cease all acts of disobedience to law and order. All law abiding citizens should go about their lawful duties without let or hindrance.
"I must express my debt of gratitude to the Chairman and members of the Presidential Panel on Amnesty and Disarmament of Militants in the Niger Delta for the painstaking and expeditious manner in which they have carried out their assignment."
Yar'Adua added: "fellow Nigerians, the accomplishment of the task of national transformation which our administration has embarked on leaves no room for any distraction."
He therefore appealed "to all our leaders – political, religious and traditional – to be guided at all times by a sense of a proper appreciation of the greater good and an abiding faith in the peace, security and prosperity of our dear nation."
Chairman of the Panel and Minister of Interior, retired Maj.-Gen. Godwin Abbe, said the recommendations, if implemented, would help stem the current crisis in the region.
Said Abbe, "Mr. President, we have tried to proffer solutions to a number of challenges that will arise in the course of giving meaning to your magnanimity. We are convinced that the recommendations in the report will provide a comprehensive framework for dealing with the matters of disarmament, demobilization and rehabilitation or reintegration of the militants."
He noted that the framework of the panel "recommends the full participation of all tiers of government, security agencies, civil society groups and other stakeh olders in achieving the goal of general amnesty for the ex-militants and establishment of lasting peace in the Niger Delta region."
C. With Agency Reports