AS UMEH DECRIES CALL FOR PRESIDENT'S RESIGNATION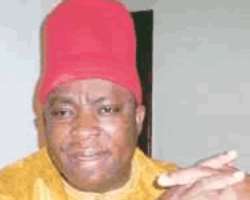 Against the backdrop of the call by Northern Political Leaders on President Jonathan to resign over the October 1, twin bomb blasts, the National Chairman of the All Progressives Grand Alliance, (APGA), Chief Victor Umeh has warned of dire consequences of the inflammatory utterances of the political leaders on the peace and stability of the country.
The APGA Chairman also called for a shift of the 2011 elections to June next year while the handover date is pushed forward to October 1, 2011.
Speaking with newsmen in Abuja yesterday, the APGA chieftain argued that the utterances by the Northern leaders smacked off desperation to rule, wondering why the response of the leaders should amount to a call on the President to resign or be impeached.
He said he had thought the political elites would rally round the government in the present circumstance and declare a national day of mourning for the innocent souls that perished in the bomb blasts.
'Rather, our brothers are playing politics with the national shame which had brought untold dent on the image of the nation internationally. People are playing up divisive tendencies. Nigerians are not interested in this power play they are interested in good governance and responsible leadership.'
Umeh stated further, ' what is happening has shown that we have not lived up to the creed of a united Nigeria. We are yet to live above tribal sentiments, by insisting that compulsorily, a section of the country must produce the President. This is unfortunate. Has any section ever had special development benefit for being from the tribe of the president? He asked rhetorically.