POLICE BAN PUBLIC GATHERING IN ABUJA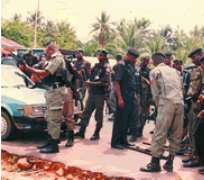 Following the precarious security situation in Abuja, the Federal Capital Territory (FCT) Police Command yesterday banned public rallies, demonstrations, processions, road shows and walk of any kind unless permission are obtained in writing.
Announcing the ban, Mr. Stephen Ekpei, Deputy Commissioner of Police (DCP) in-charge of Administration said the measure was aimed at ensuring that such fragile security situation in FCT was not hijacked by hoodlums and miscreants to create confusion, pandemonium and false alarm as presently being witnessed in the territory.
There was panic and confusion on Tuesday in some parts of the FCT over rumour that a bomb was to be exploded in some areas in the city, a situation that forced offices and other businesses to shut down before the Police went on air to reassure residents that it was a false alarm.
Since the explosion of last Friday during the golden jubilee cerebration that claimed 12 lives and left several others injured, residents of the city had been living in fear. The Police, however, said the new measure was part of strategy to restore confidence of the public as well as forestall future occurrence stressing that violators of the new security measure would be arrested and prosecuted.
'While command deeply regreting the loss of innocent lives and sympathizing with families of the deceased and those that sustained injuries, people are hereby advised to go about their lawful businesses without fear and apprehension. Residents and visitors are advised to be vigilant and endeavour to report promptly to the nearest police station any suspicious movement in their locality,' the police chief said.